Feel in Control on Magicycle Ocelot
A long journey on Magicycle Ocelot will be easy and relaxed with the butterfly-shaped handlebar, designed to avoid any soreness or pain in your back or arms. Leading a wonderful life on a Magicycle Ocelot, everything is under control.
52V 15Ah Lithium Battery
A total of 42 5000mAh cells inside this battery provide a large capacity. Compared with a 18650 cell battery, this 21700 one could bring you a longer range, stability, and safety.
Have a Fun Time with Your Pets
The 500W/900W motor makes it easy to catch up while walking the dog. The Ocelot can mount a basket where your pets can stay inside. The unibody front mounting bracket enables you to mount a front basket, in which you can put your pets as well.
Easy Shopping Easy Life
The step-thru frame design enables you to get on and off the Ocelot easily. No matter whether you are running errands or going to a shopping mall, you are just an Ocelot away to make all these things more enjoyable than ever.
Tektro M300 Mechanical Disc Brakes
The Tektro M300 Mechanical disc brakes provide ample stopping power even in the harshest condition super sensitive brakes make even steep slopes a piece of cake.
Frame Components
Magicycle VS Other Brands
Basket Mounting Bracket
Magicycle Ocelot's
Unibody design

Others
Welding brackets, lack aesthetics

What are the Pros of the Ocelot's bracket?
More solid and aesthetic
Standover Height
Magicycle Ocelot's
15.35" from the ground

Others
≥15.35"

What are the Pros?
Easier to get on and off
Seat Stay & Chain Stay
Magicycle
Pentagonal diamond section customized die opening better rigidity, and strength

Others
Common male mold square design Cheap pipe materials on the market

What are the Pros?
High torsional strength and good body rigidity Comfortable and stable riding, easy and sensitive control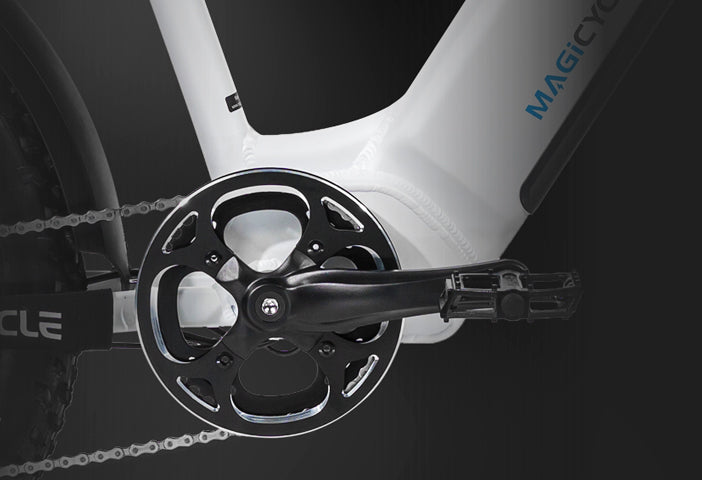 The Position of Controller
Magicycle Ocelot's
The controller is installed in an aluminum alloy box, which is welded with the frame as a whole to provide double protection

Others
The box is exposed to the external environment and easily broken.

What are the Pros?
The Controller can be protected from external impacts like rock water, etc.
Down Tube
Magicycle
Multi-cavity variable diameter oil injection molding process, the wall thickness is designed to be 4.0mm-5.0mm process plan

Others
The industry usually has a thickness of only 3mm and is a single cavity

What are the Pros?
Solve the problems that the strength of the industry male model down tube is not enough, the riding frame is soft, and the handlebar shakes the rear wheel when going down hill
Specification
Battery52V 15Ah lithium battery
Hub Motor 500W/900W brushless gear motor
Display Backlight Display with USB Charging
Total Payload Capacity 350lbs
Charger Short-circuit proof 3.0A fast smart charger
Controller 500W/900W FOC smart controller, Current Range 7-22Ah (IPX8)
Recommended Rider Heights 4'10" - 6'2"
Charging Time 3 - 5 Hours
Pedal Assist Intelligent 5 levels pedal assist with 12 magnet cadence sensor
Components
Brake Lever Aluminum alloy comfort grip levers with motor cutoff switch
Lights Integrated front light
Crank 48T, 170mm forged alloy, dual-sided bashguard
Brake Tektro Mechanical Disc Brakes
Saddle Super Soft Cushion
Seat Post Diameter 30.9mm length 300mm
Kickstand Heavy Duty Aluminum
Spokes 13 Gauge on the Front / 12 Gauge on the Back
Front Fork Alloy Mechanical lockout suspension fork
Throttle Half twist throttle
Freewheel Shimano-14-28T BROWN/BK
Bike Frame 20" 6061 Aluminum Frame
Package Dimension 153CM x 36CM x 88.5CM
Pedal Wellgo alloy pedal with reflectors
Gearing Shimano 7 Speed Gear Shift System
Geometry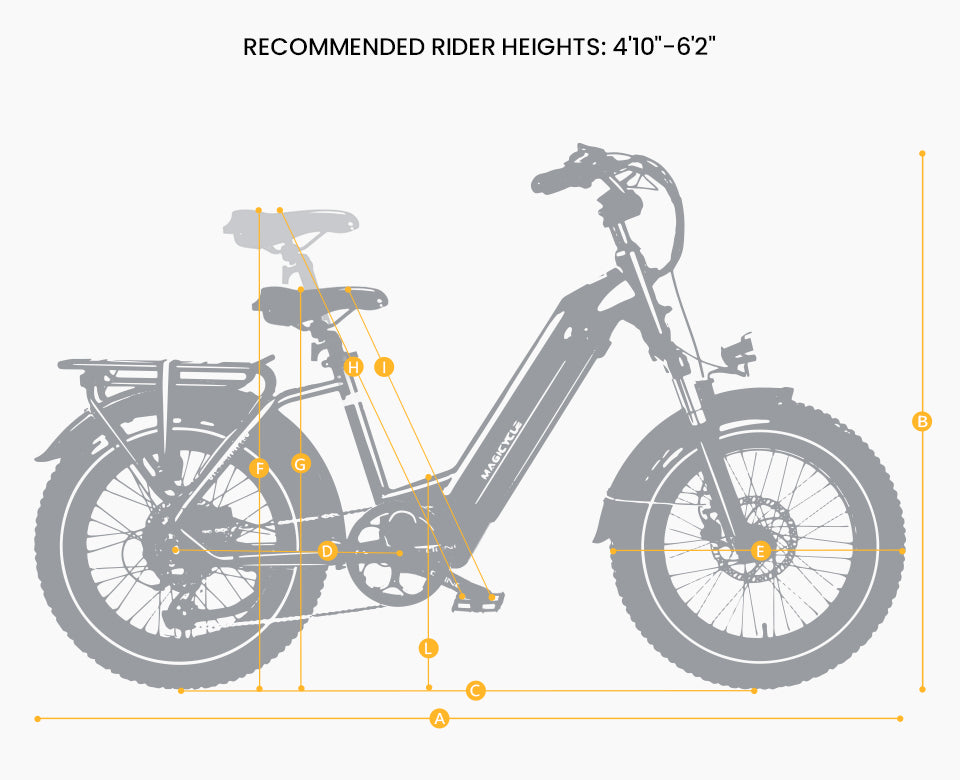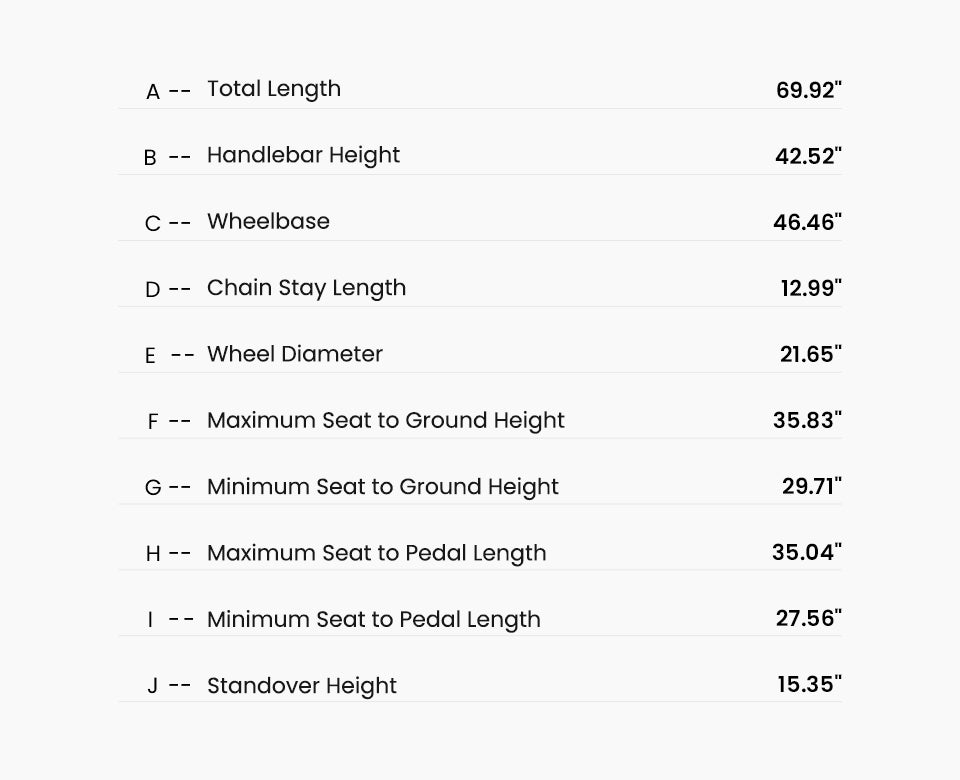 Sizing
OCELOT FAQS
OCELOT FAQS
+ Are step-thru ebikes worth it?

Step-thru ebikes are the best choice for professional needs, if you need a bike for the office then they prove to be the best choice. No matter what kind of formal attire you have, these bikes will keep you comfortable and relaxed. You also won't need to worry about your dress getting dirty.

+ Are step-through bikes less stable?

No. Traditionally, the construction of a step-through bike is less stable and weaker than that of a traditional model. But Magicycle Ocelot step-through bikes are designed with thicker and more durable frames to avoid deformation when going uphill. The thickness of the tube wall is designed to be 4-5mm, while the ebike industry usually has a thickness of only 3mm, and it is a single cavity. This technology solves the problem of insufficient strength of the step-over model down tube in the bike industry.

+ What's the Ebike Classification of Magicycle Ocelot?

The factory default setting of the Magicycle Ocelot is Class 2.

+ What is the recommended tire pressure of Magicycle Ocelot?

Magicycle Ocelot should be between Min: 5 PSI ~ Max: 30 PSI. Usually, you can check the recommended pressure on the tire sidewall which is how much you should inflate your tires.

+ Does Magicycle Ocelot has Gear Shifting?

Magicycle Ocelot is equipped with a high-quality 7-speed Shimano gear shift system. The gears are there to help you ride more efficiently on the flat, power up any hills in your area, and give you that flexibility if you run out of battery while out and about.

+ What's in the Magicycle Ocelot gift package?

①Bike Repair Tool ($39 CAD Value): We carefully selected the following repair tools according to our ebike features: 3 wrenches, 6 Allen Wrenches, and 1 screwdriver.
②Magicycle Full Fenders ($145.99 CAD Value): Reducing the amount of water, mud, and grime that sprays up into your face, all over your bike and your backside is enough to warrant their use.
③Front Light ($53.99 Value): Integrated front light keeps you to be seen all the time.