80+

Miles Range

96 Nm

Torque

TEKTRO

Hydraulic Disc Brakes
Tailor-Fit for Various Height
Various heights can be adjusted. The Ocelot Pro is equipped with adjustable seats that can be freely tailored between a height of 4'10" and 6'2" (148 cm - 187 cm). Almost everyone can find the most suitable riding position by simply adjusting the seat.
Long Range Electric Bikes
A single charge can last up to 60 miles on purely electric power and over 80 miles with pedal assist.
Get on Magicycle Ocelot Pro and have a fun trip with your friends this weekend.
52V 20Ah Large-Capacity LG Lithium Battery
Magicycle Ocelot Pro combines the new 52V 20Ah LG lithium battery technology with 56 5000mAh single cells capacity in larger size. Compared with 18650 cells, this 21700 cell efficiently improves the range, stability,and safety of Magicycle ebikes.
Safe and Steady
The innovative frame design leads to a stronger downtube strength that most ebike brands have yet to achieve. Combined with hydraulic disc brakes, you could keep balanced without shaking violently while riding downhill or off-road
Hydraulic Disc Brakes
The Tektro 180mm hydraulic disc brakes provide ample stopping power even in the harshest condition super sensitive brakes make even steep slopes a piece of cake.
Pets Companion
Bring you lovely pets together on Ocelot Pro to embrace exploration. This time, you will be able to catch up and run with them let your pets feel your love.
Frame Components
Magicycle VS Other Brands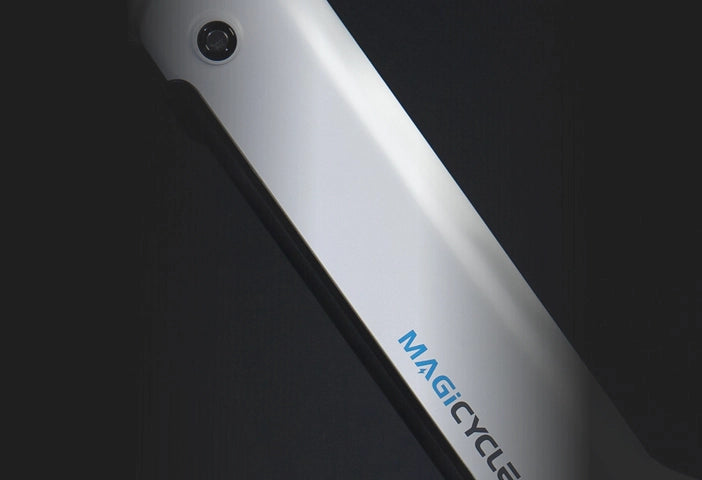 Battery box
Magicycle
The hidden battery box design is adopted which is integrated with the down tube of the frame. A double lock design is adopted, one lock is anti-theft, and the other lock is anti-fall.

Others
The appearance is not beautiful and the battery box is easy to fall off when riding on severe off-road roads.

What are the Pros?
The appearance is more beautiful the front and rear center of gravity of the vehicle is uniform and the body is more compact, the wheelbase of the front and rear wheels is effectively controlled and the handling is better, safer, and safer to prevent the battery box from falling off when the battery is riding on violent off-road roads
Vegetable Basket Mounting Bracket
Magicycle
Unibody design bracket

Others
Welding brackets and the appearance after sticking to the head tube are not beautiful

What are the Pros?
Better strength and better appearance
Standover Height
Magicycle
The span height is only 15.35 from the ground

Others
≥15.35"

What are the Pros?
Easier to cross easier to get on and off
Seat Stay & Chain Stay
Magicycle
Pentagonal diamond section customized die opening, better rigidity, and strength

Others
Common male mold square design. Cheap pipe materials on the market

What are the Pros?
High torsional strength and good body rigidity. Comfortable and stable riding with easy and sensitive control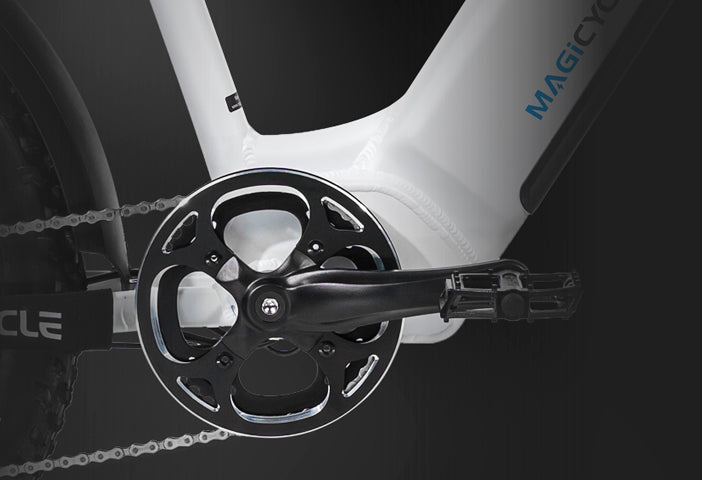 Controller Installation Position
Magicycle
The controller box and the frame are welded as a whole and the controller is installed in an independent closed aluminum alloy controller box

Others
Independent box outside the body, weak protection for the controller

What are the Pros?
The design of the whole bicycle has a strong sense of unity, the appearance is beautiful and simple, and the controller is well protected from external impact and damage
Down Tube
Magicycle
Multi-cavity variable diameter oil injection molding process, the wall thickness is designed to be 4.0mm-5.0mm process plan.

Others
The industry usually has a thickness of only 3mm and is a single cavity.

What are the Pros?
Solve the problems that the strength of the industry male model down tube is not enough, the riding frame is soft and the handlebar shakes the rear wheel when going downhill.
Specification
Battery52V 20Ah LG lithium battery
DisplayColor LCD Display with USB Charging
ChargerShort-circuit proof 3.0A fast smart charger
Total Payload Capacity350lbs
Controller52V 750W FOC smart controller, Current Range 7-22Ah (IPX8)
Hub Motor750W brushless gear motor
Recommended Rider Heights4'10" - 6'2"
Pedal AssistIntelligent 7 levels pedal assist with 12 magnet cadence sensor
Package Dimension153CM x 36CM x 88.5CM
Components
Front ForkAlloy Hydraulic lockout suspension fork
Brake LeverAluminum alloy comfort grip levers with motor cutoff switch
ThrottleHalf twist throttle
LightsIntegrated front and brake lights
Seat PostDiameter 30.9mm length 300mm
PedalWellgo alloy pedal with reflectors
Crank48T, 170mm forged alloy, dual-sided bashguard
Freewheel Shimano-14-28T BROWN/BK
KickstandHeavy Duty Aluminum
Bike Frame20" 6061 Aluminum Frame
GearingShimano 7 speed gear shift system
BrakeTektro 180mm Hydraulic Disc Brakes
Spokes13 Gauge on the Front / 12 Gauge on the Back
Geometry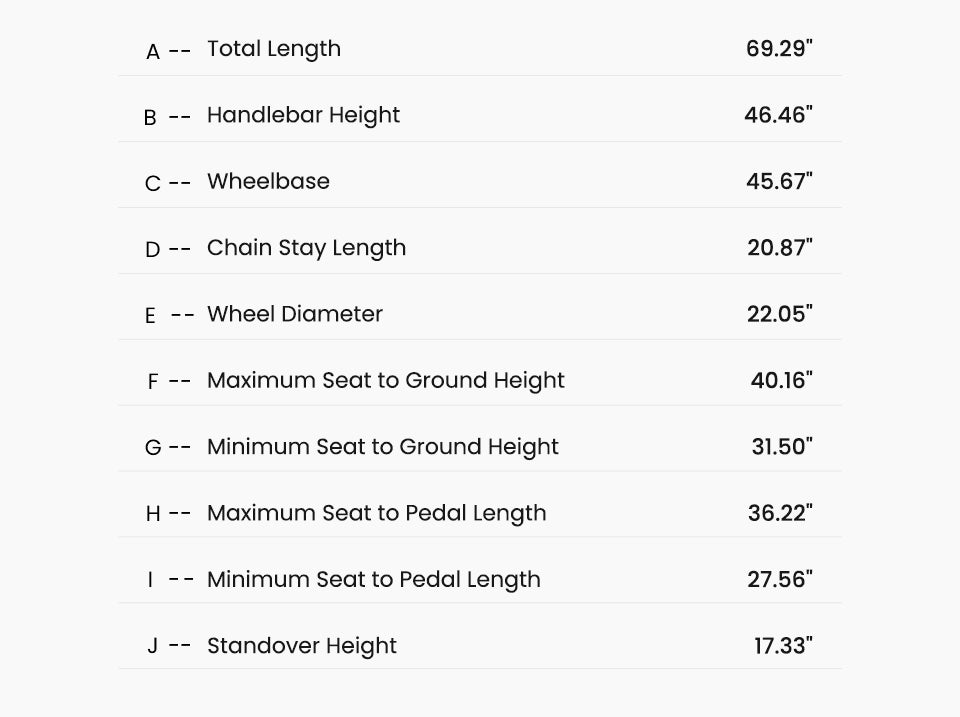 Sizing
OCELOT PRO FAQS
OCELOT PRO FAQS
+ What's the frame difference between the Ocelot Pro and other brands?

The down tube of the Ocelot Pro is formed by a multi-cavity oil injection process. The thickness of the tube wall is designed to be 4-5mm, while the ebike industry usually has a thickness of only 3mm, and it is a single cavity. This technology solves the problems of insufficient strength of the step-thru model down tube in the bike industry, soft frame, handlebar shaking and rear wheel throwing when going downhill or getting off the bike.

+ What's the special point of the Ocelot Pro's battery box?

①The battery box adopts the hidden design, which is integrated with the lower tube of the frame, which makes the appearance of the Ocelot Pro more elegant and smooth, evenly dividing the front and rear center of gravity of the bike to form a more compact body.
②The battery box with a dual lock design, one lock is anti-theft, and the other one is anti-fall. Prevent the battery from falling off when you're riding on a tough paved road, keep your battery safe.

+ What are the effects and functions of the hydraulic suspension front fork?

Alloy front suspension fork with lockout and adjustment, 80mm travel distance. The hydraulic suspension front fork allows the wheel to "travel" along the fork for a few inches. This dynamic movement helps absorb the jarring impact of rough terrain and gives the rider a more comfortable ride.

+ How fast does Magicycle Ocelot Pro go using the throttle?

The default speed setting is 32KMH(20mph), Magicyclebike is able to reach 45KMH(28mph).

+ How many miles can Magicycle Ocelot Pro go if going 20mph?

Generally, you can go 96KM(60 miles) with throttle only and 128KM(80 miles) with pedal assist.

+ How to reach 28 mph?

The default speed setting is 20mph, Magicyclebike is able to reach 28mph (45kmh). First, press the "+" and "-" buttons at the same time. Then the setting page shows up in the display. Second, select the "Advanced" option and press "i" button to open the advanced setting page. Third, select the "Power Set" option, which determines how many levels the pedal assistance provides. The default value is 0-7. Set it to 0-5 and then press the "i" button to save it. After this, a small sub-page will come up showing the voltage percentage that is put on each level of pedal assistance. Set level 5 from 96% to 100%.

+ Does my height suit Magicycle Ocelot Pro?

The recommended rider height is 4'10" ~ 6'2". The Lower step-thru frame and ground clearance of only 286mm, make it easier and more comfortable for riders with small heights to ride.

+ Can I use the throttle in pedal assist mode?

Yes, both models can be used.

+ How water-resistant is the Magicycle Ocelot Pro?

The Magicycle Ocelot Pro controller is IPX8, and other electronic components (Battery/ Motor) are IPX6.

+ What kind of weather can I ride in?

Magicycle is built to the IPX6 water-resistant standard. It indicates your bike is resistant to multi-directional water splashes, meaning it is okay to ride or park your Magicycle in rain. Light to moderate raindrops or splashes from a wet road will not harm your ebike, but be weary of harsher weather and rainfall conditions. Additionally, do not stay too long in heavy rain. The general rule of thumb is, if weather impacts your visibility and has the possibility to affect your bike's functionality, it is likely not a safe riding condition. With that in mind, safe riding!

+ What's the Ebike Classification of Magicycle Ocelot Pro?

Magicycle Ocelot Pro belongs to the Class 3 ebike.

+ What's the ride modes?

Magicycle has 3 ride modes: throttle-only, pedal-assist, and pedal-only (with 7-speeds). All of them are really easy to use and you can switch between them on the go depending on the terrain, your energy levels, and how much battery you have left!

+ What is the recommended tire pressure of Magicycle Ocelot Pro?

Magicycle Ocelot Pro should be between Min: 5 PSI ~ Max: 30 PSI. Usually, you can check the recommended pressure on the tire sidewall which is how much you should inflate your tires.

+ What's in the Magicycle gift package?

①Bike Repair Tool ($39CAD Value): We carefully selected the following repair tools according to our ebike features: 3 wrenches, 6 Allen Wrenches and 1 screwdriver.
②Magicycle Full Fenders ($145.99CAD Value): Reducing the amount of water, mud, and grime that sprays up into your face, all over your bike and your backside is enough to warrant their use.
③Magicycle Rear Rack ($133CAD Value): Provides a stable framework to hold gear on your ebike.
④Front & Rear Lights ($102.98CAD Value): Integrated front and rear lights keep you to be seen all the time.

+ Does the ebike come with a charger?

Yes, our eBikes come with a charger. All Magicycle ebike comes with a 3.0A fast smart charger. Additional chargers are available on our accessories page.
Very happy with the bike
With bad knees this bike has been great for me to get out again. Had a little issue as I might have hit wrong button but Janice in service was fantastic with helping me.If you have a problem there great at getting back to you.
Wow
What more can you say? Our Ocelot Pro's arrived yesterday and we love them. The ease of unboxing to first ride was a breeze. The ride is wonderful, the power available is a delight. My Partner who is bike nervous has taken to it like a pro leaving me behind on the trails. I did a lot of research and this bike topped the lists and I am not disappointed that we purchased.
Great for any user
After a lot of research finally i found this bike and its best choice regarding the range , performance , quality , design and price
Extremely Happy
Did a lot of research and decided on the Ocelot Pro Step Through ebike. I actually couldn't be happier. Came on time, easy to assemble, but most most of all just fun to ride. I am a 72 years male who used to ride road bikes and wanted to get back to riding, but was afraid to venture too far from home. This bike allows you to go for rides without fear of headwinds or hills. If you are on the fence about buying an ebike, let me assure you that you won't be disappointed.
Proud Magicycle bikes owner
I started with the Ocelot Pro as a commuter ebike while still working I have been impressed with both the quality and value for the price. I love every aspect of this model and since retirement have used it as a daily rider. It is awesome! I have ridden a total of 300+ miles. This is a great bike and am debating on which model to try next! Kudos to Magicycle bikes for a job well-done across their entire lineup.