50+

Miles Range

65 Nm

Torque

Hydraulic

Disc Brakes
Your Travel Buddy - Magicycle Jaguarundi
Jaguarundi can be your excellent partner for long journeys besides cars. Folded in a trunk, unfolded on the road, Jaguarundi will accompany you anywhere to experience the freedom and breeze in midsummer under the blue sky and with a tent as your camp.
Quick Fold in 3 Steps
Jaguarundi features a quick-fold design that enables the bike to be folded in 3 steps: release the lock of the handlebar, press down the folding latch, and hold down the little red button while breaking the bike in half, taking you only 10 seconds.
Lightweight, Portable, Space-Saving
The size of the Jaguarundi is equivalent to a 22-inch suitcase and won't take too much trunk space, making it easy to take Jaguarundi wherever you go while camping.
Brake Faster, Brake Safer
For riders' safety, Magicycle equips Jaguarundi with hydraulic disc brakes to provide strong braking power and short braking distance.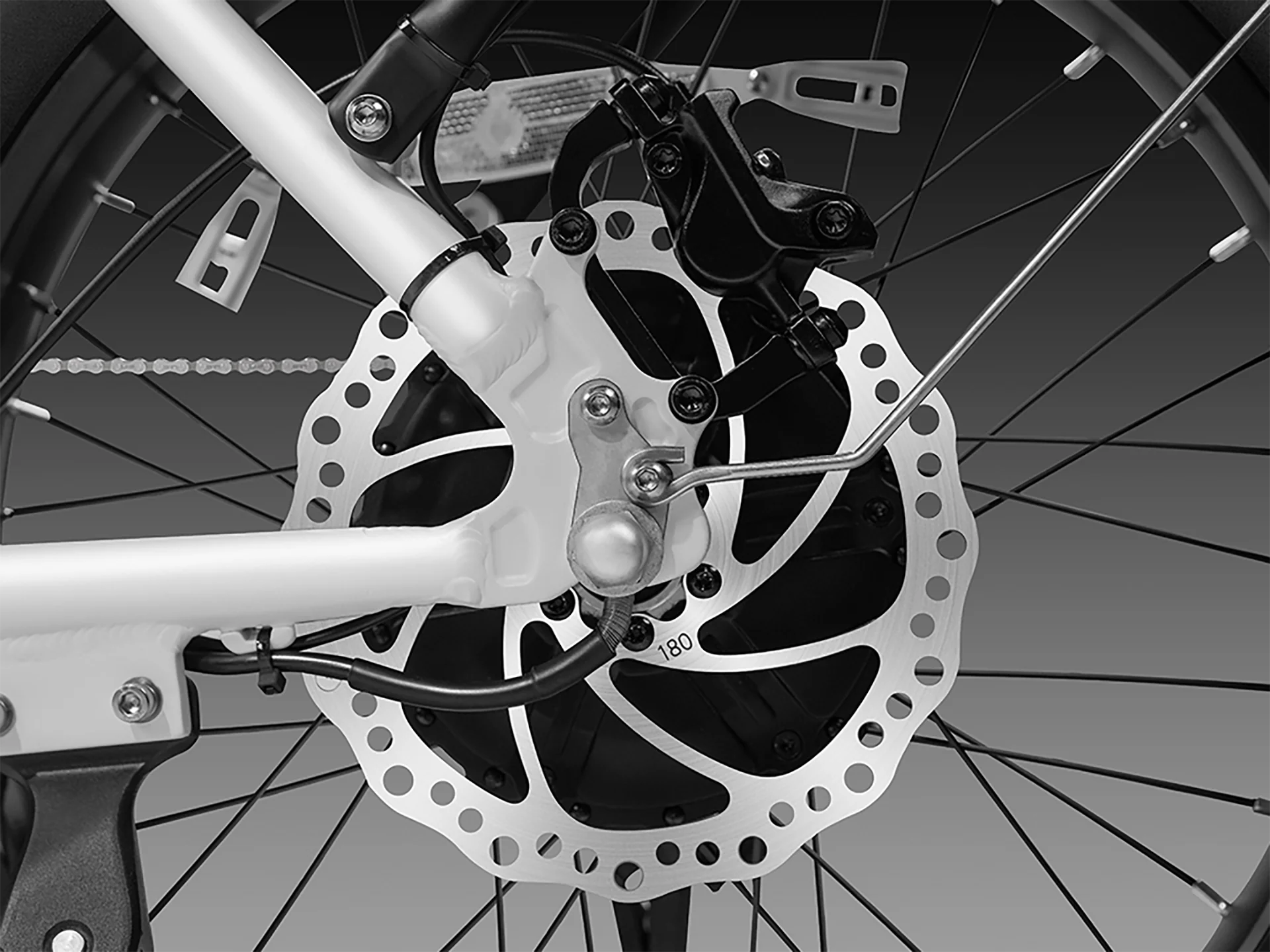 48V 15Ah Lithium Battery
Compared with regular batteries, Magicycle's lithium battery has a longer lifespan and larger capacity. With the built-in BMS, the battery won't cause fire and has a range of up to 50 miles.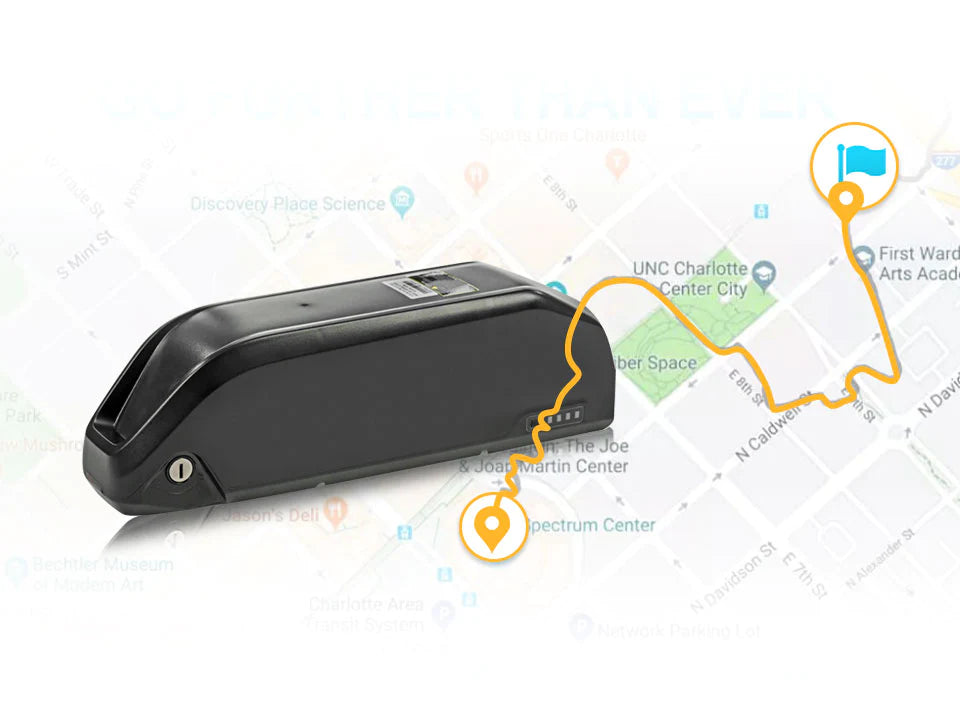 Puncture-Proof Tire, No Punctures on Any Roads
The tires of Jaguarundi are made of sturdy and durable materials, ensuring puncture-free and stable rides against rocks and sharp objects. The strong grip guarantees your safety on slippery surfaces.
Quality is in the details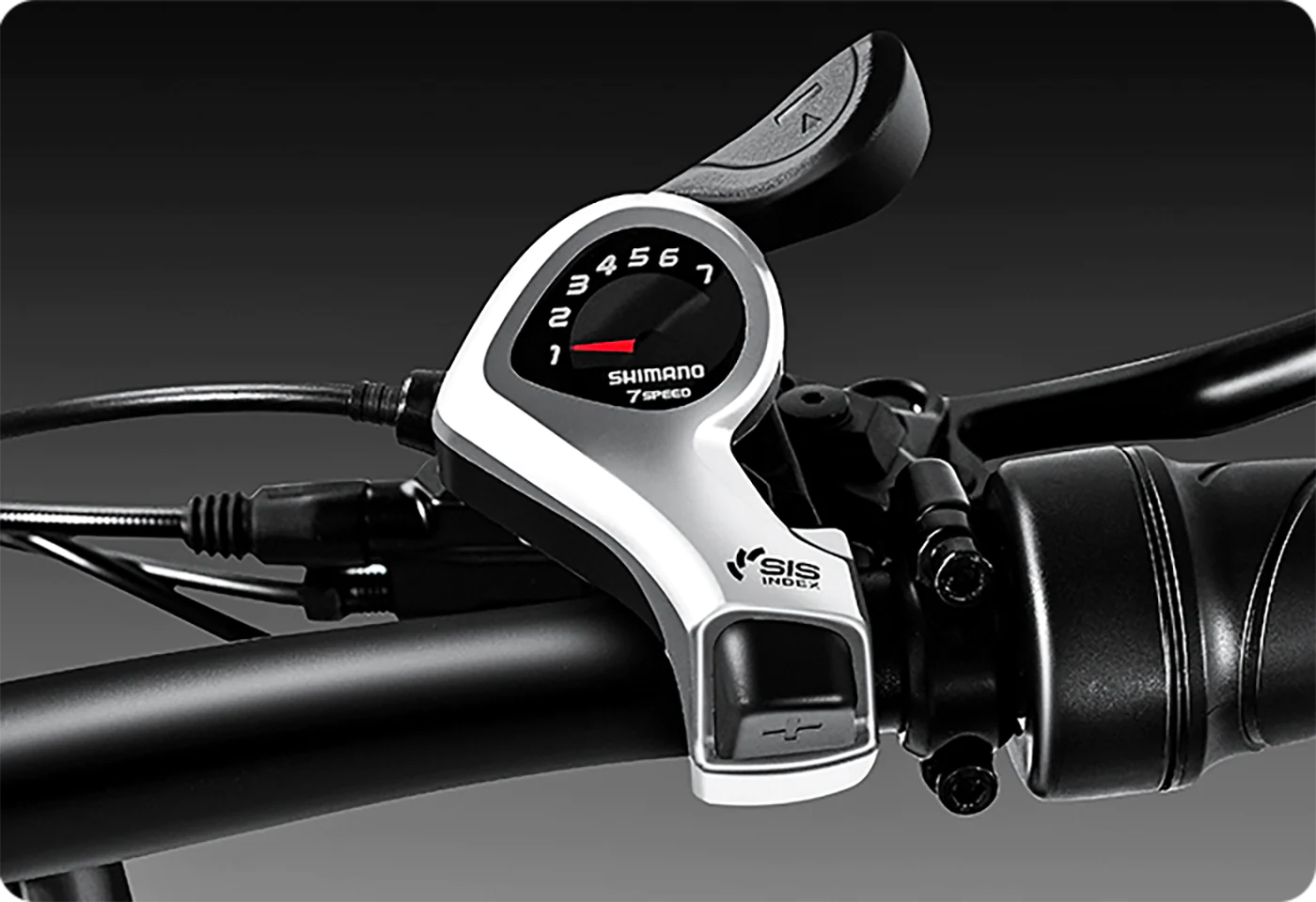 Shimano 7-Speed Shifter
Silky-Smooth Feeling of Shifting Gear.
Adjustable Handlebar
Adjustable handlebar to fit different heights.
Integrated Aluminum Alloy Frame
Lightweight and sturdy frame made out of aerospace aluminum alloy.
Strong Chain Guard
Prevent bike chain from coming off.
Front Light
Front LED headlight for better visibility.
Intelligent Display
Multi-functional display with all kinds of information.
Rear Rack
Heavy-Duty Rear Rack with a load capacity of 60 lbs.
Front Fork
Provide better shock absorption and handling.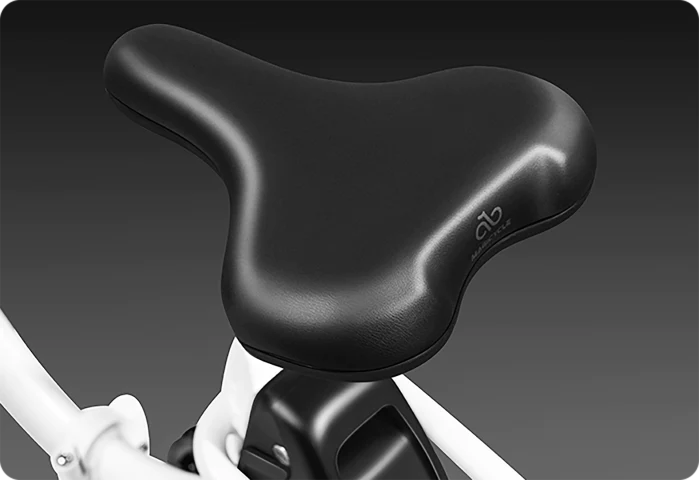 Cozy Saddle
Ergonomic leather saddle for comfortable long rides.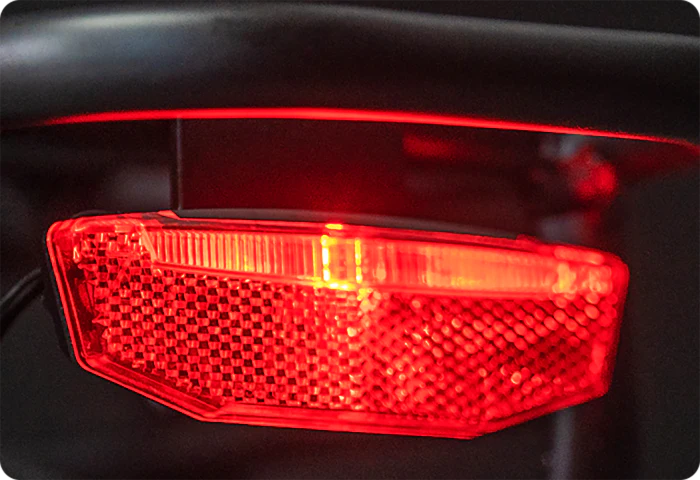 Brake Light
Sensitive brake light improving visibility and safety.
Specification
Battery 48V 15Ah lithium battery
ChargerShort-circuit proof 2.0A fast smart charger
Total Payload Capacity350lbs
Controller48V 750W FOC smart controller, Current Limit: 18Ah
Hub Motor750W Rear Hub Motor
Recommended Rider Heights4'10" - 6'2"
Pedal Assist Intelligent 7-level pedal assist with 12-magnet cadence sensor
Package Dimension 153CM x 36CM x 83CM
Components
Front ForkAlloy Mechanical lockout suspension fork
Brake LeverAluminum alloy levers with motor cutoff switch
ThrottleHalf twist throttle
LightsIntegrated front light
Seat PostDiameter 24mm length 311mm
PedalAlloy pedals with reflectors
Crankset52T Chainring, 16*170L ALuminum Crank, Double-sided Bash guard
FreewheelShimano-14-28T BROWN/BK
KickstandHeavy Duty Aluminum
Bike Frame 20" 6061 Aluminum Frame
GearingShimano 7 Speed Gear Shift System
Brake180mm Hydraulic Disc Brakes
Spokes 36 spokes in total for the front and rear wheels
Geometry
Sizing
JAGUARUNDI FAQS
JAGUARUNDI FAQS
+ How fast does Magicycle Jaguarundi go using the throttle?

The default speed setting is 32kmh(20mph), Magicycle Jaguarundi is able to reach 40kmh(25mph).

+ How many miles can Magicycle Jaguarundi go if going 20mph?

Generally, you can go 28 miles with throttle only and 50 miles with pedal assist.

+ Can I use the throttle in pedal assist mode?

Yes, both models can be used.

+ How water-resistant is the Magicycle Jaguarundi?

Magicycle Jaguarundi controller is IPX8, and other electronic components (Battery/ Motor) are IPX6.

+ What kind of weather can I ride in?

Magicycle is built to the IPX6 water-resistant standard. It indicates your bike is resistant to multi-directional water splashes, meaning it is okay to ride or park your Magicycle in rain. Light to moderate raindrops or splashes from a wet road will not harm your ebike, but be weary of harsher weather and rainfall conditions. Additionally, do not stay too long in heavy rain. The general rule of thumb is, if weather impacts your visibility and has the possibility to affect your bike's functionality, it is likely not a safe riding condition. With that in mind, safe riding!

+ What is the recommended tire pressure of Magicycle Jaguarundi?

Magicycle Jaguarundi should be between Min: 5 PSI . Max: 30 PSI. Usually, you can check the recommended pressure on the tire sidewall which is how much you should inflate your tires.

+ What's in the Magicycle Jaguarundi gift package?

①Bike Repair Tool ($39CAD Value): We carefully selected the following repair tools according to our ebike features: 3 wrenches, 6 Allen Wrenches, and 1 screwdriver.
②Magicycle Full Fenders ($145.99CAD Value): Reducing the amount of water, mud, and grime that sprays up into your face, all over your bike and your backside is enough to warrant their use.
③Front Lights & Tailight ($53.99CAD Value): Integrated front and rear lights keep you to be seen all the time.
④Magicycle Rear Rack ($133 CAD Value): Provides a stable framework to hold gear on your ebike.

+ What's the Ebike Classification of Magicycle Jaguarundi?

The Magicycle Jaguarundi belongs to Class 2.

+ Are ebikes good for losing weight?

Yes! The motor on an ebike may make bicycling easier but at the end of the day, you are still staying active and moving your body during your ride. Studies show that riding eBikes can contribute to a healthier lifestyle, improving cardio conditioning and brain function. While you have a handy motor to help you out of sticky spots (or steep hills), pedaling an electric bicycle burns around 444 calories an hour–that's only 20% lower than a conventional bike!
Enhancing My Retirement Enjoyment
My new Jaguarundi e-bike has brought so much enrichment to my retirement life. Despite having foot issues that limited my activities, this e-bike has given me newfound mobility and joy.
Pure Joy on Two Wheels
This folding electric bike is an absolute blast to ride. It's not just fun; it also delivers enough power to take us wherever we want to go. The folding option makes it a breeze to store in any vehicle for far-off adventures and offers versatile storage solutions.
Enhancing Our Camping Adventures
My wife and I are avid campers (RV camping), and we always bring these e-bikes along. They fold up neatly, fitting easily in the back of my truck or camper. They allow us to enjoy thrilling rides even while camping. Plus, they provide ample power and a smooth ride 每 we're delighted with these e-bikes.
Perfect for Limited Storage Space
My wife and I have been enjoying our Jaguarundi e-bikes for about two months now. Riding them is an absolute delight. Living in a townhouse with limited storage space, we specifically chose these folding electric bikes for their convenience.
In Love with My Jaguarundi E-Bike
I'm absolutely smitten with my new Jaguarundi e-bike. Every time I take it for a spin, people can't help but compliment its fantastic design. It's incredibly comfortable to ride and fits me perfectly. Riding my new e-bike brings me pure joy!