80+

Miles Range

96 Nm

Torque

Hydraulic

Disc Brakes
SUV Ebike for Various Terrain
Inspired by SUV Deer Ebike SUV combines elements of commuter ebike with features from off-road ebikes and full-suspension ebikes. It is designed for every path, every terrain.

Unlike 4-Bar full suspension Mtbs, of which the rear triangle can neutralize the pedaling force, Deer adopts an integrated rear triangle linked to a hydraulic coil suspension to improve the rigidity of the frame while providing smooth rides on both streets and rugged terrain.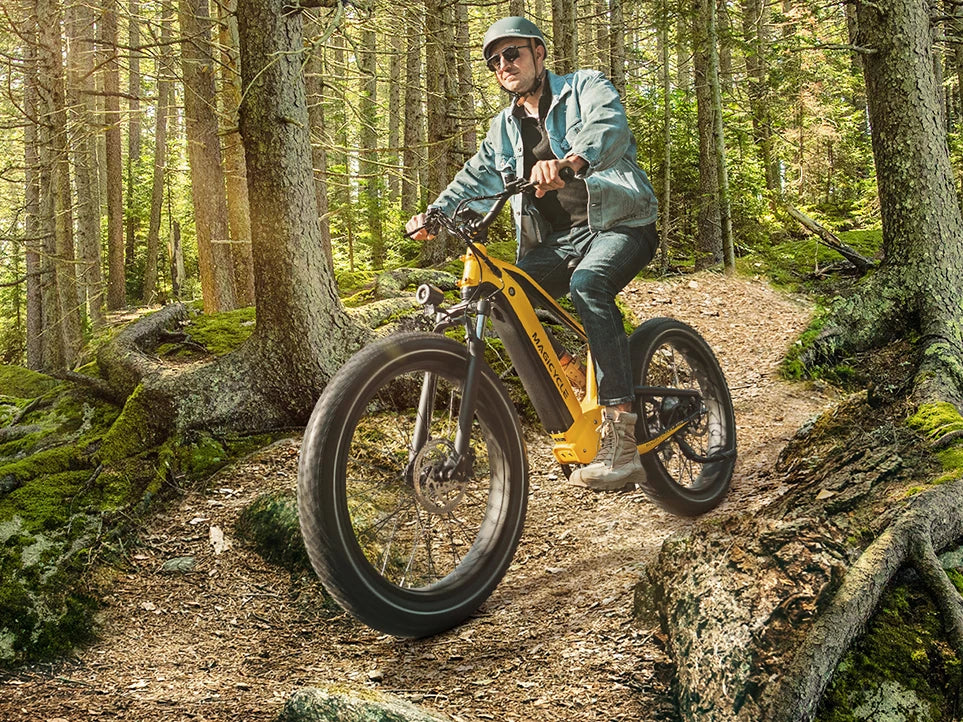 Hydraulic Coil Suspension for Recreational Riders
Deer's rear suspension adopts a hydraulic damper, which aborbs the bumps while riding on beachs, gravel roads, or forest trails. This is a great fir for recreational riders who love to ride on mixed terrain.
53-Teeth Huge Chainring, No More Ghost Pedalling
The 7-Speed Gear Set allows riders to reach a 3.8:1 Gear Ratio, which gets rid of ghost pedaling and leads to a better riding experience.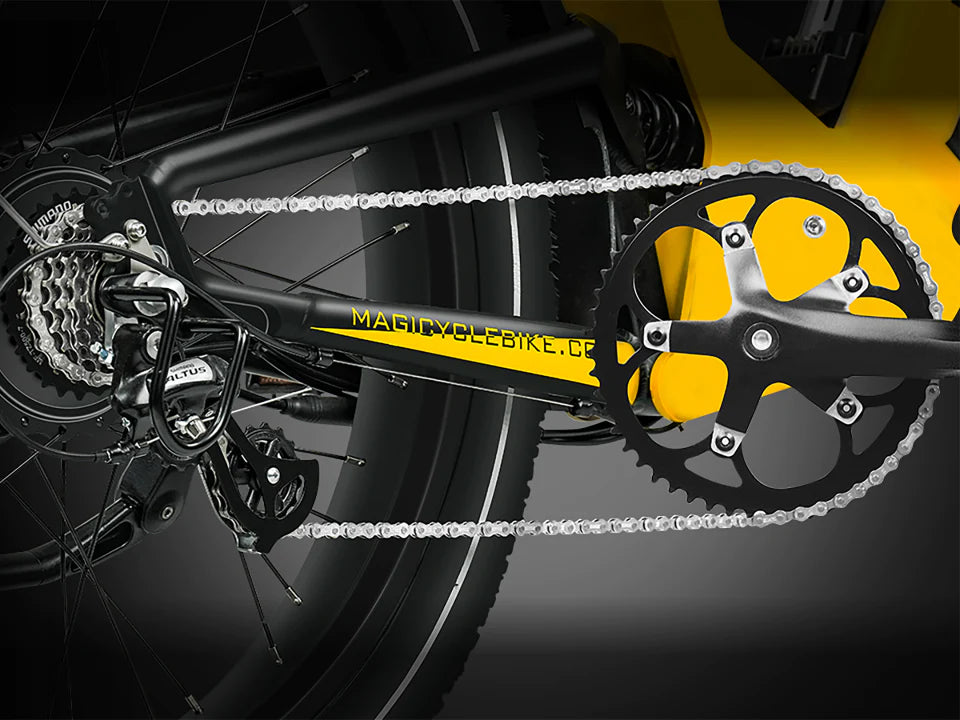 Stable Frame, Smooth Rides
The frame of Deer is made of aerospace aluminum alloy, which is more sturdy and durable. With the electronic control system created by Magicycle engineers who have 16 years of manufacturing experience, Deer is capable of providing smooth rides.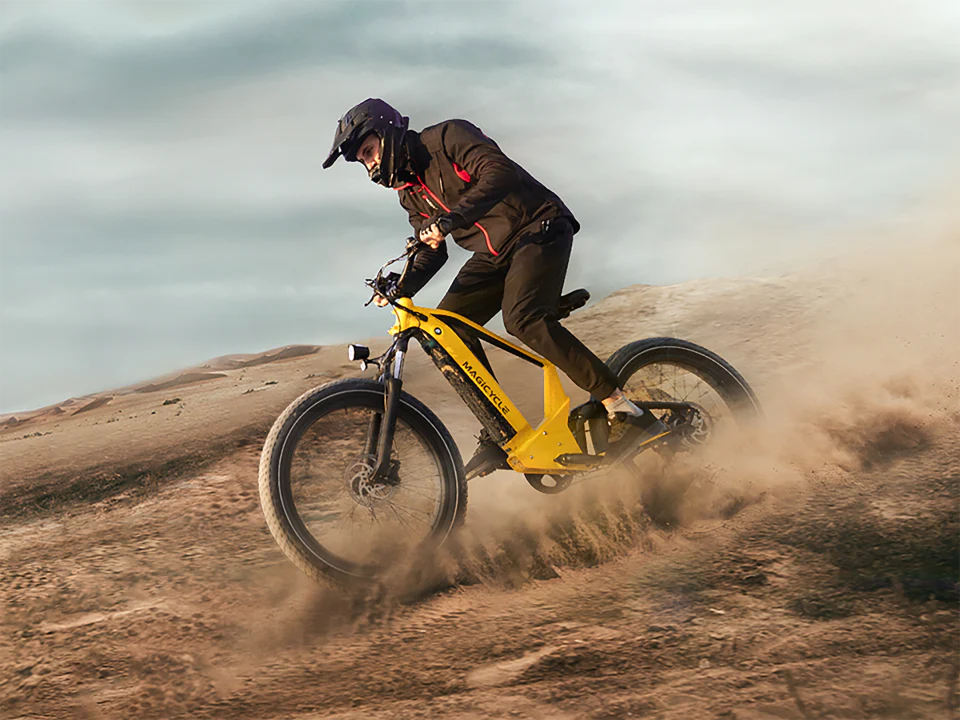 Free Your Hand with Cruise Control
Use the throttle, set the pace, and hold it for 8 seconds, you can activate the cruise control of the Deer and free your right hand. That's how we ride smarter.
Adjustable Pedal Assist, Customize Your Ebike Rides
Not only can the power output of each level of the pedal assist be adjusted, but the range of levels can be selected, such as 1-7 and 1-9, meeting the needs of different riders.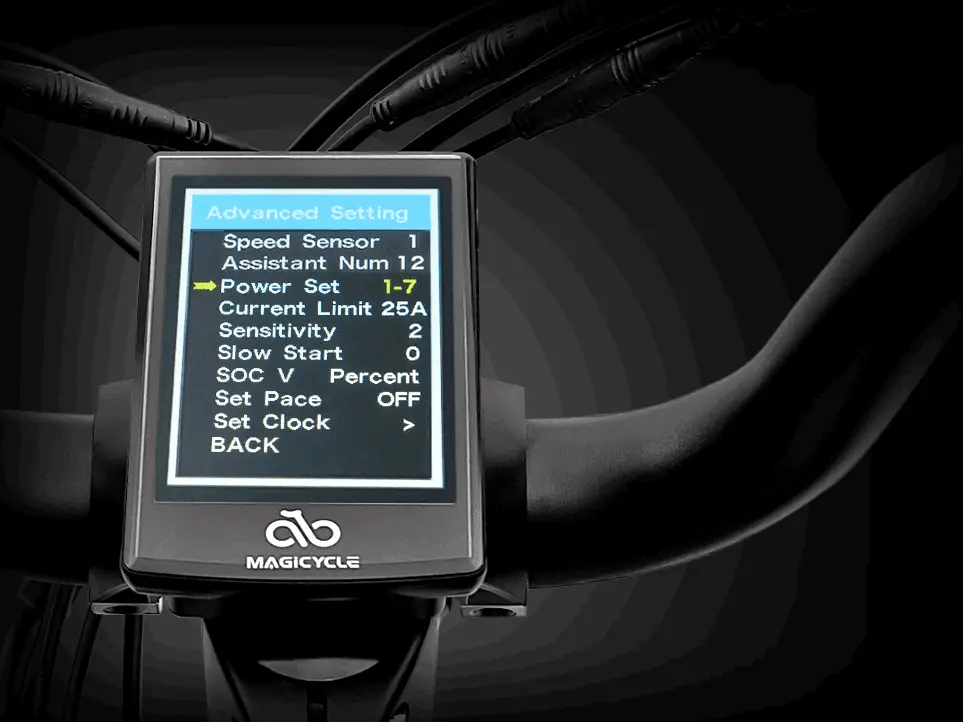 Suitable for Riders of Different Heights
The 26" Deer fits riders 5'5" - 6'8" and the 20" version fits riders 4'10" - 6'2". With such a wide range of recommended heights and the step-thru frame, you can enjoy smooth rides without worrying about your heights.
1100W Motor Make You climbing like Riding on Flat Ground
The 750W powerful motor can reach a peak power of 1100W and torque of 96 Nm. This is where the incredible hill-climbing capability comes from.
52V 20Ah 21700 Battery
"21700" represents higher capacity, greater power output, and longer battery life. The 52V 20Ah battery makes Deer a powerful long-range electric bike.
Puncture-Proof Tires
The tires of Deer are made of strong and solid materials to ensure a robust defense against sharp objects on the road, leading to puncture-free, smooth, and safe bike rides.
Quality is in the details
Double Layer, Multi Cavity
The integrated downtube of common ebike frames can cause riders to wobble when braking, which is dangerous. To avoid that, The Magicycle team designed and engineered a double-layer multi-cavity downtube for the Deer series for added strength and safer rides.
Triangle Seatpost Structure
The stable triangle design under the seat tube ensures the stability of the seat post. That's how Magicycle makes Deer the first step thru full suspension electric bike on the market.
Smart Color LCD Display
The color display on Deer provides a customizable user experience. You can program speed limits, power delivery of different levels of PAS, slow start, and more to meet your own needs and ride smarter.
Large Load Capacity
Just like a real suv, Magicycle has a large load capacity of 400 Ibs which is friendly for heavy riders and enables riders to bring lots of necessities. Compared to most other ebike brands Deer comes with a much larger rear rack providing much more convenience.
Soft Bike Seat
Magicycle bike seats are ergonomically designed to fit your body. They are shaped to match your riding position and will free you from strain and fatigue caused by long rides.
180mm Hydraulic Disc Drakes
The Tektro 180mm hydraulic disc brakes provide ample stopping power. They make steep slopes a piece of cake.
Specification
Battery52V 20Ah LG lithium battery
DisplayColor LCD Display with USB Charging
ChargerShort-circuit proof 3.0A fast smart charger
Total Payload Capacity 400lbs
Controller 52V 750W FOC smart controller, Current Range 7-22Ah (IPX8)
Hub Motor 750W brushless gear motor(IP55)
Recommended Rider Heights 5'5" - 6'8"
Pedal Assist 7-level Intelligent pedal assist with 12-magnet cadence sensor
Package Dimension166CM x 33CM x 88.5CM
Components
Tires Kenda 26"x4.0" Fat Tires
Front Fork Alloy Hydraulic lockout suspension fork
Brake Lever Aluminum alloy comfort grip levers with motor cutoff switch
Saddle Super Soft Cushion
Throttle Half twist throttle
Lights Integrated front and brake lights
Seat Post Diameter 33.9mm length 250mm
Pedal Wellgo alloy pedal with reflectors
Crank 53T, 170mm forged alloy, dual-sided bashguard
Freewheel Shimano-14-28T BROWN/BK
Kickstand Heavy duty aluminum
Bike Frame 18" 6061 Aluminum Frame
GearingShimano 7 speed gear shift system
Brake180mm Hydraulic Disc Brakes
Spokes 13 Gauge on the front / 12 Gauge on the back
Geometry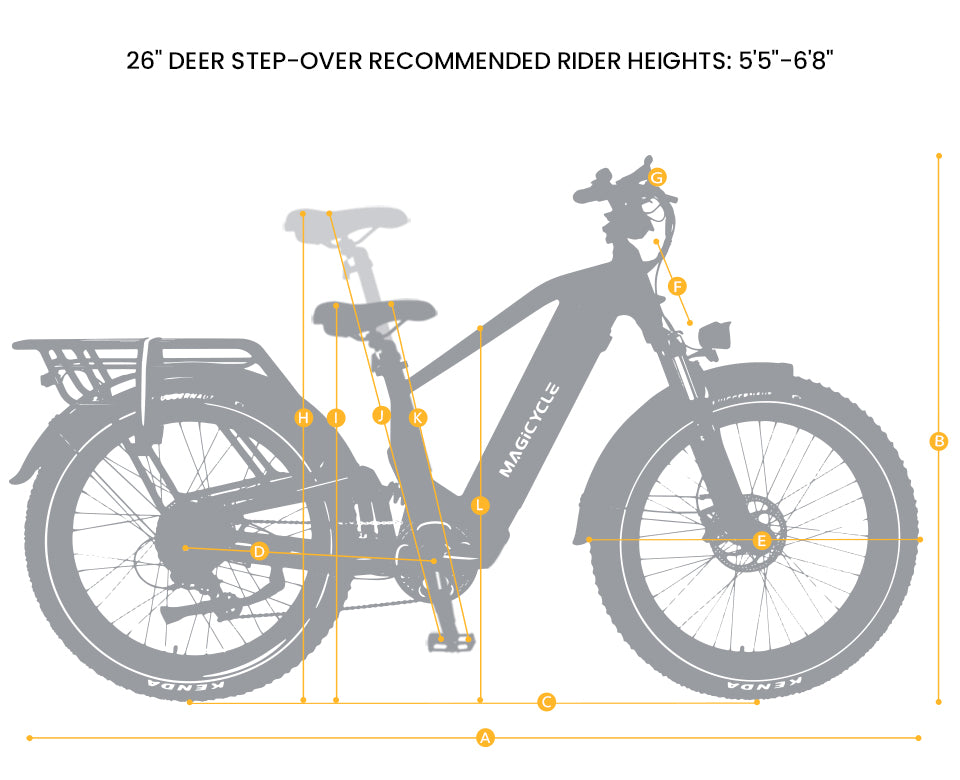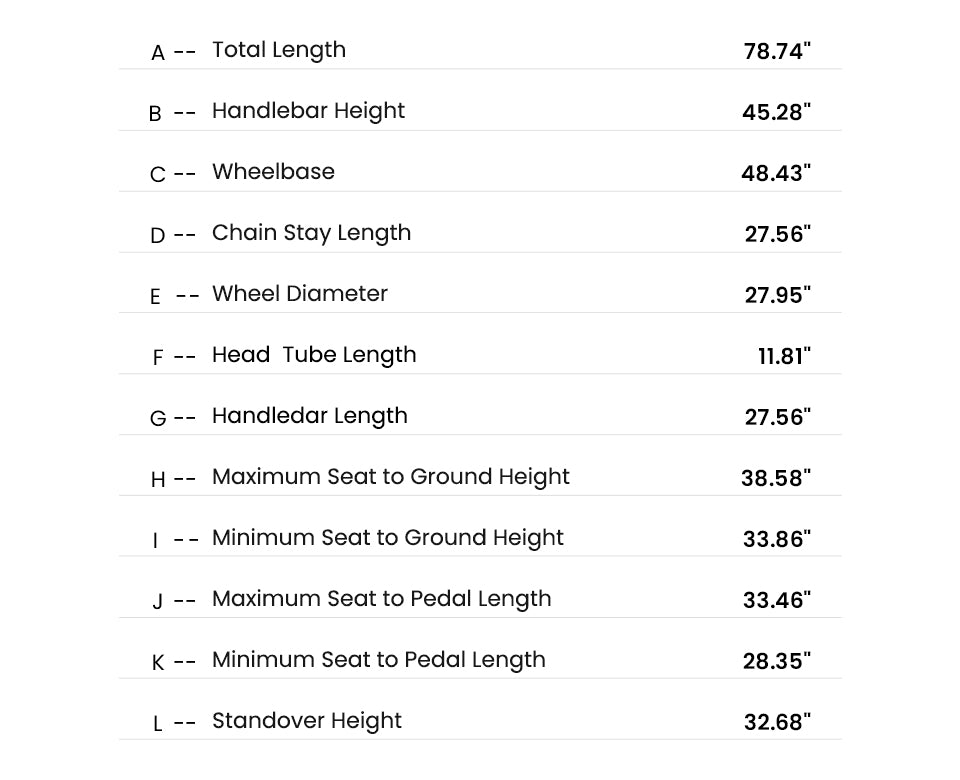 Sizing
DEER FAQS
DEER FAQS
+ How fast does Magicycle Deer go using the throttle?

The default speed setting is 32KMH(20mph), Magicyclebike is able to reach 45KMH(28mph).

+ How to reach 28 mph?

The default speed setting is 20mph, Magicyclebike is able to reach 28mph (45kmh). First, press the "+" and "-" buttons at the same time. Then the setting page shows up in the display. Second, select the "Advanced" option and press "i" button to open the advanced setting page. Third, select the "Power Set" option, which determines how many levels the pedal assistance provides. The default value is 0-7. Set it to 0-5 and then press the "i" button to save it. After this, a small sub-page will come up showing the voltage percentage that is put on each level of pedal assistance. Set level 5 from 96% to 100%.

+ How many miles can Magicycle Deer go if going 20mph?

Generally, you can go 96KM(60 miles) with throttle only and 128KM(80 miles) with pedal assist.

+ What are the effects and functions of the hydraulic suspension front fork?

Alloy front suspension fork with lockout and adjustment, 80mm travel distance. The hydraulic suspension front fork allows the wheel to "travel" along the fork for a few inches. This dynamic movement helps absorb the jarring impact of rough terrain and gives the rider a more comfortable ride.

+ What terrain is Magicycle Deer good for?

From roads, mountains, and sand to grass, Magicycle Deer can handle them all. 26"X4" Kenda puncture-resistant tires offer upgrade grip and skid resistance ability. The fat tires provide good traction on gravel and dirt and put less pressure on the ground, which supports the rider to travel through the places that other bikes simply can't go.

+ Can I use the throttle in pedal assist mode?

Yes, both models can be used.

+ What's the ride modes?

Magicycle has 3 ride modes: throttle-only, pedal-assist, and pedal-only (with 7-speeds). All of them are really easy to use and you can switch between them on the go depending on the terrain, your energy levels, and how much battery you have left!

+ How water-resistant is the Magicycle Deer?

Magicycle Deer controller is IPX8, and other electronic components (Battery/ Motor) are IPX6.

+ What is the recommended tire pressure of Magicycle Deer?

Magicycle Deer should be between Min: 5 PSI ~ Max: 30 PSI. Usually, you can check the recommended pressure on the tire sidewall which is how much you should inflate your tires.

+ What's in the Magicycle Deer gift package?

①Bike Repair Tool ($19CAD Value): We carefully selected the following repair tools according to our ebike features: 3 wrenches, 6 Allen Wrenches and 1 screwdriver.
②Magicycle Full Fenders ($118CAD Value): Reducing the amount of water, mud, and grime that sprays up into your face, all over your bike and your backside is enough to warrant their use.
③Magicycle Rear Rack ($175 CAD Value): Provides a stable framework to hold gear on your ebike.
④Front & Rear Lights ($44CAD Value): Integrated front and rear lights keep you to be seen all the time.

+ What's the Ebike Classification of Magicycle Deer?

Magicycle Deer belongs to the Class 3 ebike.
This is Exceptional!
I love the vibrant colors of the Deer! With the addition of the new Deer, I believe Magicycle has created the perfect bike for any rider. Congratulations, Magicycle!
An Awesome-Looking Bike!
I've been searching extensively for my first e-bike, and I was nearly ready to buy the Cruiser Pro. However, when I discovered the Deer, I decided to wait for its release. I admire how the battery seamlessly fits into the frame and the overall sporty appearance of the bike. I hope the battery offers extended range compared to the Cruiser Pro's 52/20, so I won't need a second battery for longer rides. The space gray step-over bike is perfect. I can't wait for February 1st!
Riding with Ease and Thrill!
I have had only one ride on my new Deer softail ebike, but it was thrilling! The ease with which I became accustomed to the controls was remarkable. The gears shift smoothly, and the electric assist was more than enough for the steepest hills. The seat was comfortable, and steering responsive, making varied terrain a breeze.
Great Bike, Slightly Bigger
I rated the bike 4 stars instead of 5 because it's a bit larger than I anticipated. If I had tried it in person, I would have chosen a smaller e-bike. Other than that, the Deer is a fantastic e-bike. The pedal and throttle assist help me go faster, especially when I'm tired. Overall, it offers great value for money.
Delighted with My Deer!
I bought two Magicycle ebikes ¨C a Deer for me and an Ocelot Pro for my wife. The Deer is a well-built, fully equipped, and comfortable ride that won't disappoint. This is my first full suspension ebike, and the quality is very good. The Deer is an excellent ebike at this price point.