80+

Miles Range

96 Nm

Torque

TEKTRO

Hydraulic Disc Brakes
1000W Peak Power Ebike
The motor of Cruiser Pro could reach the rated power of 750W and peak power of a whopping 1000W.
It is able to run up 20° hills fast and steadily while A normal gas-fueled car can just go up 30° hills.
750W/1000W 96Nm
With a 750W high-performance motor (peak 1000W) and a 96Nm torque, the powerful motor allows you to run up to 28 mph, providing a smooth, effortless riding experience.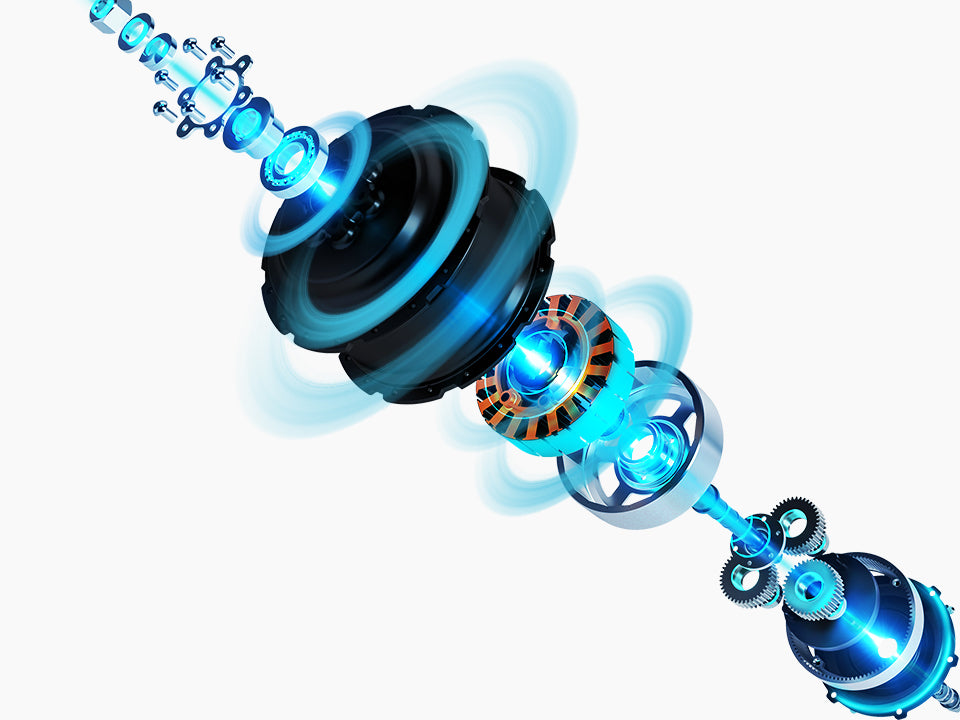 Control Every Ride
Coming with tektro hydraulic disc brakes, the Cruiser Pro keeps your rides safer than ever. Little force is needed to apply these brakes. 1 finger for braking, 4 fingers left on the grips, safer than ever.
Tektro 180mm Hydraulic Disc Brakes
The Tektro 180mm hydraulic disc brakes provide ample stopping power, which makes steep slopes a piece of cake.
A Health and Zero-Carbon Journey
Gain fitness easily on electric bikes, move to zero carbon and waste, this is the future of electric bikes.
52V 20Ah Large-Capacity LG Lithium Battery
Magicycle Cruiser Pro combines the new 52V 20Ah LG lithium battery technology with 56 5000mAh single cells capacity in larger size.
Compared with 18650 cells, this 21700 cell efficiently improves the range, stability, and safety of Magicycle ebikes.
Fish Wisher and Easier
Cruiser Pro is designed to prevail in rocky areas. The 26" Kenda fat tires help keep your balance on rocks and bumps, and the hydraulic disc brakes can bring you to a stop smoothly.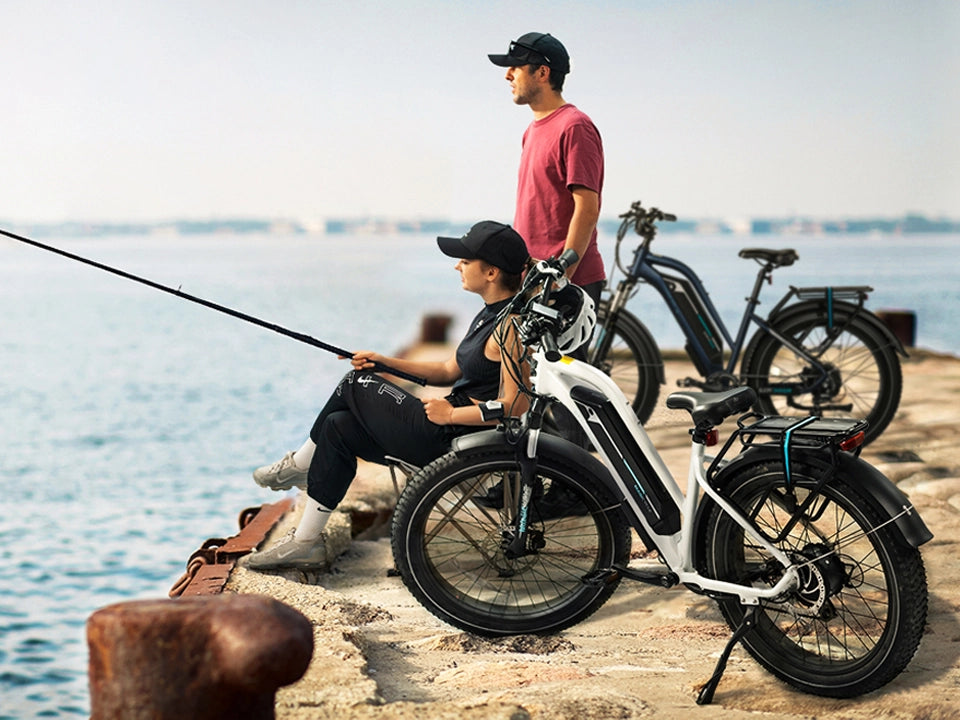 Frame Components
Magicycle VS Other Brands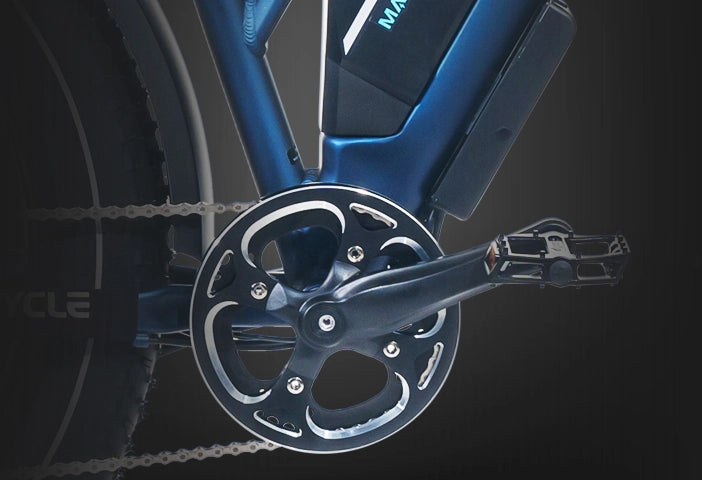 Controller Installation Position
Magicycle
Smooth lines and beautiful appearance. It is more in line with the "basic principle of bicycle design with a high degree of integration of accessories and body.

Others
The iron ring is locked on the middle tubewhich is not beautiful, like a modified ebike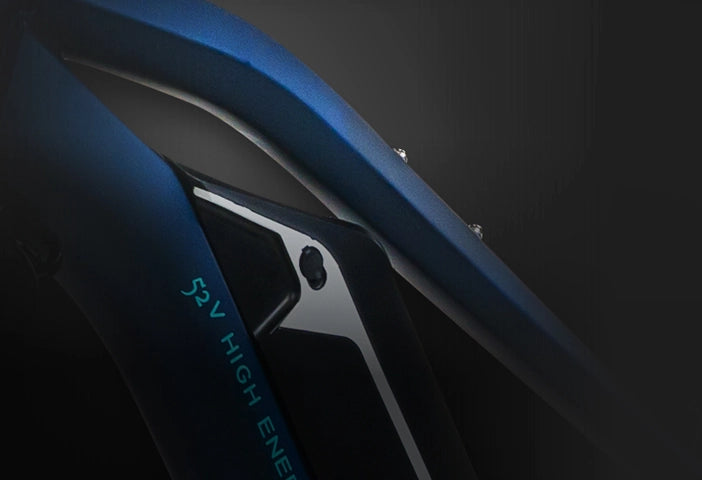 Top Tube
Magicycle
Custom mold, hexagonal diamond section design, high torsion strength, good rigidity, easy and sensitive handling, special tubing. All these make for a comfortable and smooth ride.
High torsional strength and good body rigidity Comfortable and stable riding, easy and sensitive control

Others
Common male mold trapezoid design Cheap pipe materials on the market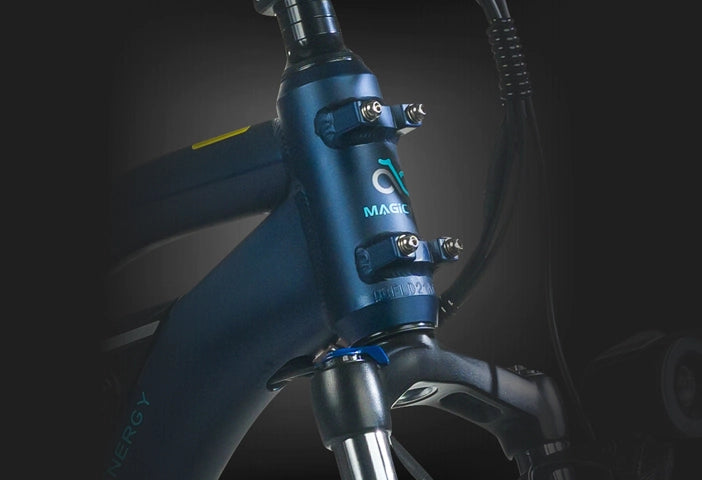 Vegetable Basket Mounting Bracket
Magicycle
Unibody design bracket, Strength, and better appearance

Others
Welded bracket, poor fit with the head tube, not beautiful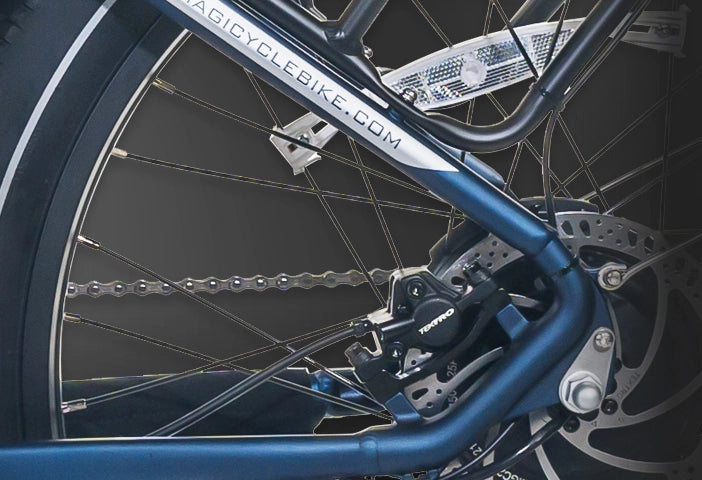 Seat Stay & Chain Stay
Magicycle
Customized mold, hexagonal diamond section design Special pipe material for 2-3mm thick variable diameter
High torsional strength and good body rigidity Comfortable and stable riding, easy and sensitive control

Others
Common male mold square design Cheap pipe materials on the market
Get To Know It
More Details Designed For You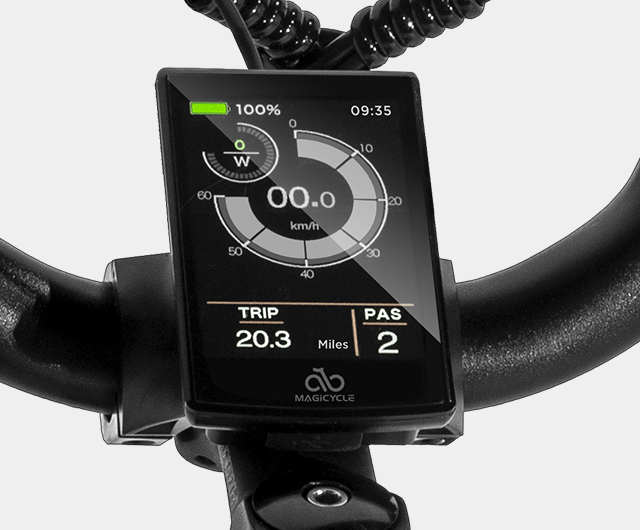 COLOR LCD DISPLAY
Trace Your Riding Conditions In Real Time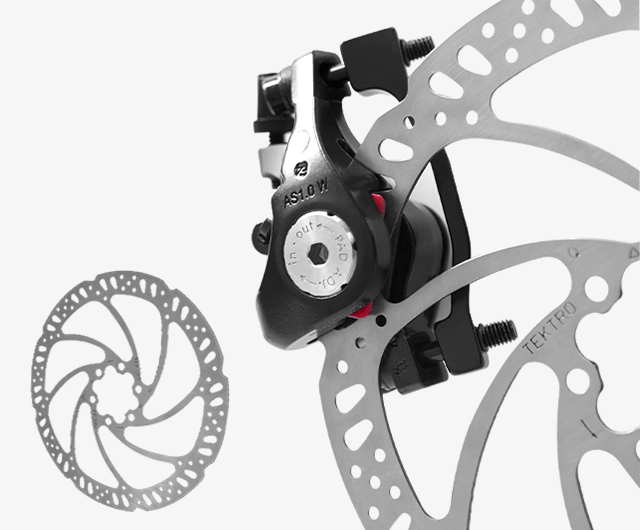 TEKTRO 180MM HYDRAULIC DISC BRAKES
Sensitive brakes are the real guarantee of your safety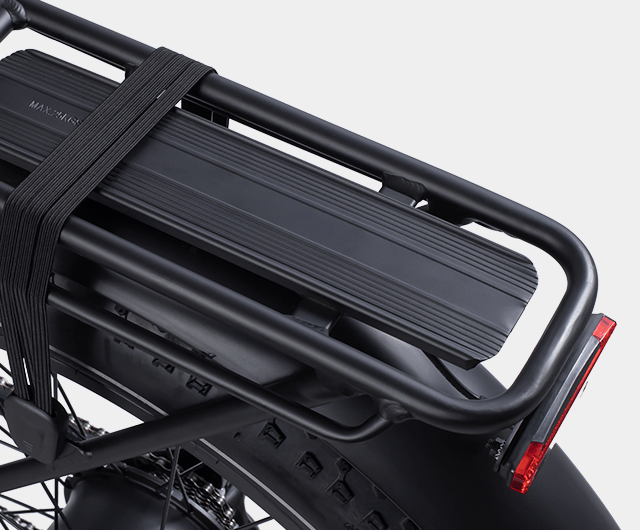 THE REAR RACK CAN HOLD UP TO 15KG FREES YOU FROM BACKPACKS ON A TRIP
Pack up your luggage and have fun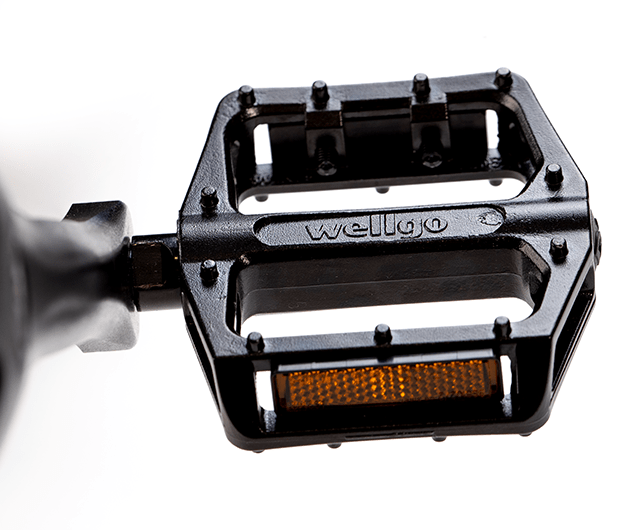 UPGRADED ALLOY PEDAL
Upgraded alloy pedal
ALLOY HYDRAULIC SUSPICION FRONT FORK KEEPS A SMOOTH RIDE ON THE GOBI
Locking up for flat roads Unlock suspicion for rocky hills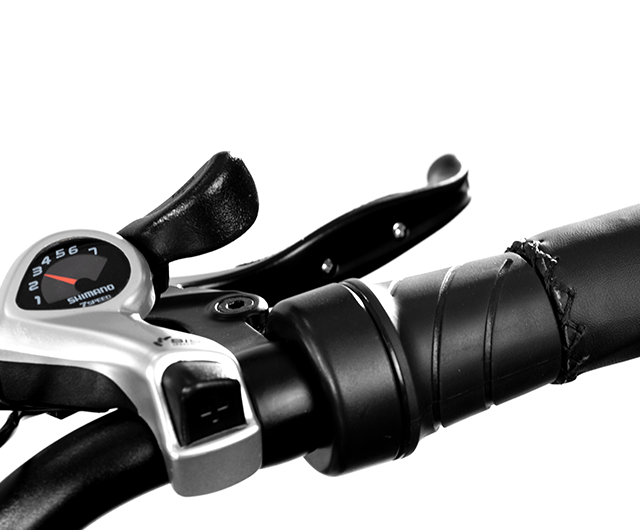 HALF-TWIST THROTTLE TO PREVENT ACCIDENTAL START
Half-twist throttle designed to prevent injuries caused by the accidental start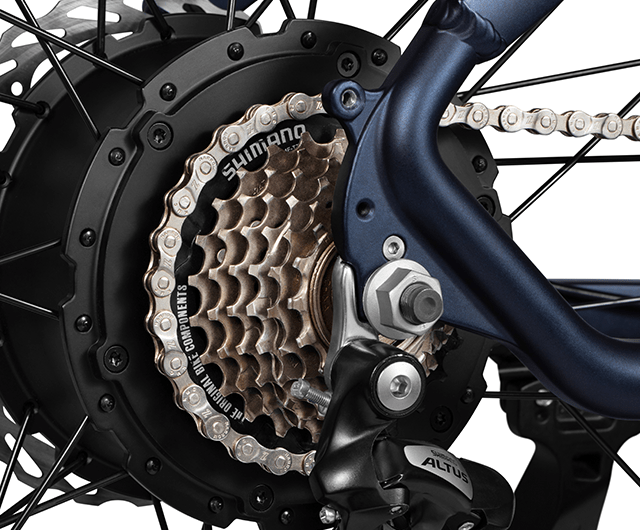 SHIMANO 7 SPEED GEAR SHIFT SYSTEM
Different speed adjustment to cope with different terrain brings you more riding fun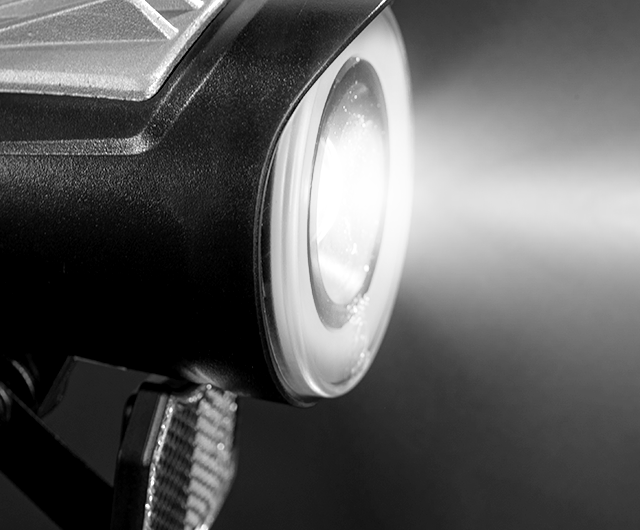 6V LED HEAD LIGHT
Powered using the main battery pack and features brake light functionality that is activated anytime
Specification
Battery 52V 20Ah lithium battery
DisplayColor LCD display with USB charging
ChargerShort-circuit proof 3.0A fast smart charger
Total Payload Capacity350lbs
Controller52V 750W FOC smart controller (IPX8)
Hub Motor750W brushless gear motor
Recommended Rider Heights 5'5" - 6'5"
Pedal AssistIntelligent 7 levels pedal assist with 12 magnet cadence sensor
Package Dimension153.5CM x 36CM x 88.8CM
Components
Tires 26" x 4" Kenda fat tires
Front ForkAlloy hydraulic suspension front fork with lockout and adjustment
Brake Lever Aluminum alloy comfort grip levers with motor cutoff switch
ThrottleHalf twist throttle
SaddleSoft and comfortable
LightsIntegrated front and brake lights
Seat Post Diameter 30.9mm length 300mm
PedalWellgo alloy pedal with reflectors
Crank42T,170mm forged alloy, dual-sided bashguard
Freewheel Shimano-14-28T BROWN/BK
KickstandHeavy duty aluminum
Bike Frame6061 aluminum frame
GearingShimano 7 speed gear shift system
BrakeTektro 180mm Hydraulic Disc Brakes
Spokes13 Gauge on the front / 12 Gauge on the back
Geometry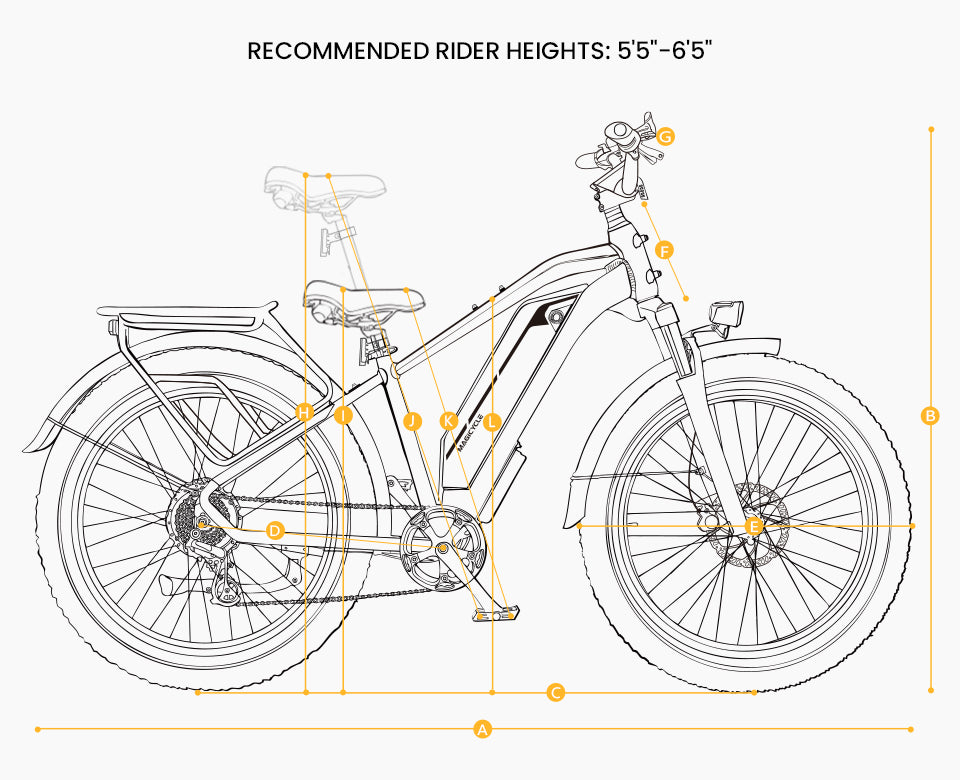 Sizing
CRUISER PRO FAQS
CRUISER PRO FAQS
+ How fast does Magicycle Cruiser Pro go using the throttle?

The default speed setting is 32KMH(20mph), Magicyclebike is able to reach 45KMH(28mph).

+ How to reach 28 mph?

The default speed setting is 20mph, Magicyclebike is able to reach 28mph (45kmh). First, press the "+" and "-" buttons at the same time. Then the setting page shows up in the display. Second, select the "Advanced" option and press "i" button to open the advanced setting page. Third, select the "Power Set" option, which determines how many levels the pedal assistance provides. The default value is 0-7. Set it to 0-5 and then press the "i" button to save it. After this, a small sub-page will come up showing the voltage percentage that is put on each level of pedal assistance. Set level 5 from 96% to 100%.

+ How many miles can Magicycle Cruiser Pro go if going 20mph?

Generally, you can go 96KM(60 miles) with throttle only and 128KM(80 miles) with pedal assist.

+ What are the effects and functions of the hydraulic suspension front fork?

Alloy front suspension fork with lockout and adjustment, 80mm travel distance. The hydraulic suspension front fork allows the wheel to "travel" along the fork for a few inches. This dynamic movement helps absorb the jarring impact of rough terrain and gives the rider a more comfortable ride.

+ What terrain is Magicycle Cruiser Pro good for?

From roads, mountains, sand to grass, Magicycle Cruiser can handle them all. 26"X4" Kenda puncture resistant tires offer upgrade grip and skid resistance ability. The fat tires provide good traction on gravel and dirt, and put less pressure on the ground, which supports the rider to travel through the places that other bikes simply can't go.

+ Can I use the throttle in pedal assist mode?

Yes, both models can be used.

+ What's the ride modes?

Magicycle has 3 ride modes: throttle-only, pedal-assist, and pedal-only (with 7-speeds). All of them are really easy to use and you can switch between them on the go depending on the terrain, your energy levels, and how much battery you have left!

+ What's the difference between the Step Over and the Step-Thru type?

The only difference between the Step Over and the Step-Thru is the style. The two models are basically the same in terms of dimensions, battery, speed, components, etc. Some customers prefer to have more of an eye-catching moped-looking bike which is easier to get on and off, whereas others prefer a sportier, more traditional frame. Regardless of the frame, you can still expect the same performance and ride!

+ How water-resistant is the Magicycle Cruiser Pro?

Magicycle Cruiser Pro controller is IPX8, and other electronic components (Battery/ Motor) are IPX6.

+ What is the recommended tire pressure of Magicycle Cruiser Pro?

Magicycle Cruiser Pro should be between Min: 5 PSI ~ Max: 30 PSI. Usually, you can check the recommended pressure on the tire sidewall which is how much you should inflate your tires.

+ What's in the Magicycle Cruiser Pro gift package?

①Bike Repair Tool ($39CAD Value): We carefully selected the following repair tools according to our ebike features: 3 wrenches, 6 Allen Wrenches and 1 screwdriver.
②Magicycle Full Fenders ($145.99CAD Value): Reducing the amount of water, mud, and grime that sprays up into your face, all over your bike and your backside is enough to warrant their use.
③Magicycle Rear Rack ($133 CAD Value): Provides a stable framework to hold gear on your ebike.
④Front & Rear Lights ($102.98 CAD Value): Integrated front and rear lights keep you to be seen all the time.

+ What's the Ebike Classification of Magicycle Cruiser Pro?

The factory default setting of the Magicycle Cruiser Pro is Class 2, but it can be unlocked to Class 3.
Outstanding Performance
Design, performance is spot on,I've put on 560 kms in a few weeks,it looks great,performs awesome,I easily do 32 kms per hour in pass 3,seems to coast well too,never thought ide be back on 2 wheels again in my 60s,it's pure fun in the sun exploring new paths on the Planet.And the Cruiser Pro is a good choice,best bang for the buck,I chose the cruiser for the upright ride position and it's spot on for the comfort,I highly recommed.
Magicycle Cruiser Pro
Love it! I did have to hire someone to put it together and I still have a little rubbing of the brake on the front tire but the bike riding itself is awesome. Goes up hills like a breeze,the throttle gets me right across intersections and I'm enjoying the crap out out this bike in my old age. It's worth every penny!
Very satisfied
I purchased the Cruiser Pro online. It showed up the next week. I watched the assembly video. Assembly was not hard, I charged the battery and check/ put air in tires. I have put 150 miles on the bike. I really like it, I've owned 2 unpowered hybrid bikes in 6 years I've ridden probably 10,000miles. I like biking, but big hills and strong headwinds have become an issue. I'm 61 and this ebike flattens the hills and negates hard headwinds. Now I really enjoy riding my new ebike.
Awesome ebike at a great price
My wife and I love the Cruiser Pro ebikes. The bikes are so we'll made! Easy to assemble, came really quick! It's cold and snowey out right now so we only been able to ride a little bit. We are impressed with the quality and ease of use, and most importantly the features. We can't wait until warmer weather. We will be riding them all the time. I tell all my friends about it and tell them they should get one. Great electric bike at a great price.
Very happy with my new Cruiser Pro ebike!
I am enjoying off road riding again like when I was young. I am 65 now and riding my regular bike was getting painful and not enjoyable, I was the slowest rider in the trails! Now with the pedal assist and throttle assist, I can ride at a fast pace enjoying the beauty of state parks, without pain, still working out but not ending exhausted and sweating horribly. The size is perfect for me. The battery range is more than expected. So far so good!