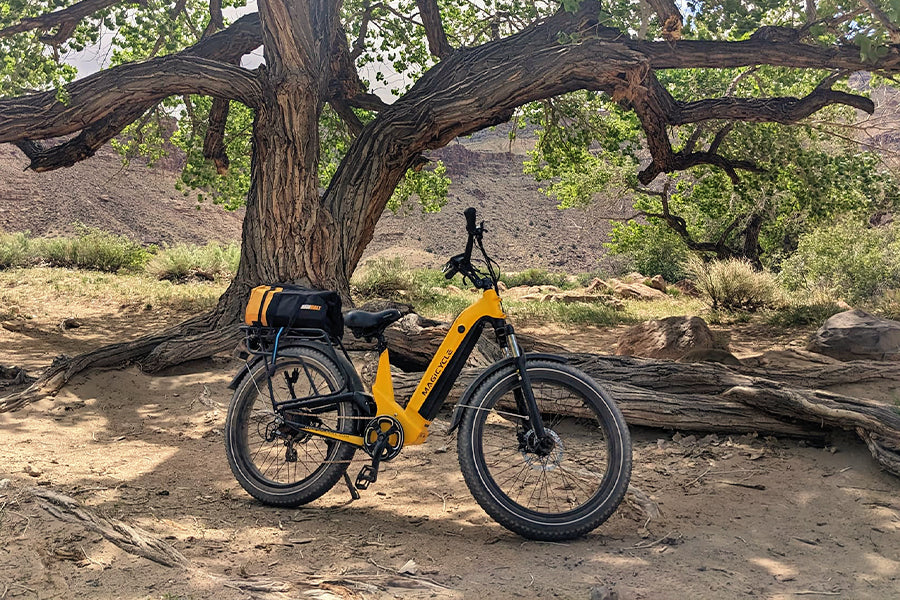 May 30,2023
Magicycle Deer Ebike SUV Versus Biktrix Juggernaut Hub Duo
Off-road capable fat tire e-bikes are currently making waves in the realm of e-biking. Full suspension bikes, have seen immense growth in popularity. In fact, since March of last year, mountain bike sales have increased by a staggering 60%. This increase is evidenced by the wallet-splurging $1,464,000,000 spent on all types of e-bikes in the US alone during last year alone. On top of that, an average daily sale of 47,000 mountain bikes proves how widely embraced this activity has become. Not surprisingly, fat tire models and full suspension fat tire e-bikes are among those receiving this industry growth.
The e-bike industry has experienced tremendous growth, resulting in a profusion of brands accessible to consumers. Road bikes, commuter bikes, fat tire bikes, ESUVs, and foldable e-bikes are all popular options as shoppers realize the immense health and financial benefits of riding one. While those commuting to work on a daily basis may find considerable savings on their commute costs, anyone who makes regular trips to shops or other facilities will also reap the rewards that come with using an e-bike.
In choosing a fat tire e-bike, it is very important to select a brand that owns the factory that makes its e-bikes. After all, if the brand doesn't own its factory, how can it possibly maintain full quality control? Let's check out two offroad-capable fat tire e-bikes, the Magicycle Deer and the Juggernaut Hub Duo.
Searching for the More Comfortable E-bike
If you're willing to invest in purchasing a at tire e-bike, it's almost certain that you'll spend a lot of time riding. Perhaps you are an avid explorer -- you enjoy off-road adventures and backwoods trails. When you're leaving behind traffic noise and exhaust fumes, you're at your best. Sometimes you need some quietness and scenic beauty to "get away from it all." Investing in a high-quality electric bike can give you just what you need.
There are endless possibilities, maybe just you alone, or maybe you and a friend or your entire family. And a good fat tire electric bike can also double as a daily commuter, and of course, it's a great machine for running errands to the grocery store or post office. Whatever type of riding you do, when spending a lot of time in the saddle you want a comfortable ride.
        When it comes to fat tire e-bikes, no factor plays a more important role in comfort than suspension. The smooth ride you can experience with these bikes makes you think of grand excursions with breath-taking views of the mountains and nature trails by pristine streams. However, this dreamy experience is always interrupted by bumps and obstacles like tree roots, rocks, dropoffs and gravel roads along the way, not to mention potholes that can rattle your teeth. That's why suspension is so essential for a comfortable journey.
        There is absolutely no doubt -- full suspension is the ideal option for most fat tire e-bike riders. These bikes are far less affected by bumps and dips. They consist of the standard front fork suspension and additional rear suspension to dampen harsh energy transmitted to your back and neck. Not only is it more comfortable, but it also affords more stability when riding, providing you with greater control.
          The Magicycle Deer is a full suspension ride, providing the comfort factor that only a full suspension ebike can offer. The Juggernaut Hub Duo has only the usual front fork suspension with the addition of a suspension seatpost. 
        A 4" wide tire is highly beneficial to an e-bike's ride stability, because it has ample surface area connecting to the ground, providing improved traction and balance. The wider tire allows for a much more secure and steady ride, while also offering versatility across various terrains. Sand, gravel, mud, snow, forest pathways, and rocky trails are all more manageable with fat tires.
          Fat tire bikes have been around much longer than most people would guess. There are historical indications of fat tire bikes in the early 1900s, and we know that serious experimentation happened no later than about 1988. Simultaneously, in two widely separated US states, genuine interest in fat tires was developing at about the same time. 
          The Magicycle Deer full suspension e-bike is nicely adorned with 26" X 4" brand name fat tires...comfortable and stable. The Juggernaut Hub Duo is also available with the same size fat tires.
Searching for the More Powerful E-bike
A comfortable ride and reliable tires are undoubtedly important, but they're even better when coupled with robust power! When it comes to quick accelerations, cruising speeds, and hill-climbing capabilities, you need a motor that won't disappoint. That's why Magicycle Deer offers a bike with a 750 watt (1100 peak watts) motor — perfect for tackling those steep ascents and discovering the most incredible views. This powerhouse machine will be just as effective on the hilly streets of San Francisco as it is at the Rocky Mountain National Park.
When you want easy, comfortable, relaxed riding, this powerful hub motor is a great choice. Besides being much more economical than mid-drive motors, the Magicycle Deer's hub motor offers 1100 watts of peak power. Fat tire e-bikes will feel underpowered on steep hills if you settle for a 250 watt or even 500 watt motor.
The Magicycle Deer's motor is a meticulously crafted engine that provides an impressive 96.8 Neuton meters of torque! Not many electric bikes can match this remarkable power, and you don't need to know the intricacies of torque to appreciate its importance. With the same torque as that offered by 800cc motorbikes, the Deer gives riders a reliable jump start, quick cruising speed and exceptional hill-climbing performance. Even if you never use all that torque, it's good to know it's there!
What about the Juggernaut Hub Duo? This front fork suspension e-bike is also equipped with a 750 watt motor. However, it produces significantly less torque than the Magicycle Deer, measured at only 80 Nm..
Are you considering an e-bike equipped with a mid-drive motor? You should know that this type of motor is prone to more wear and tear, and has a greater potential for breakdowns. What's more, installation and replacement can be complicated and costly. If you're new to e-biking, however, don't worry – hub motors are simpler to use since they allow shifting at any time – both when the bike is moving, and stopped. Furthermore, with a hub motor there's no need for frequent shifting while riding.
With a Magicycle Deer full suspension e-bike, there's a great combination of comfort and power.
Searching for the Best Electrical Energy 
The MAGiCYCLE Design Team took their commitment to the next level in giving the Magicycle Deer ESUV a newly designed battery – one that surpasses even the original 52 volt system. This more powerful unit offers riders an astounding 20 amp hour rating—an increase from 15 amps. But that's not all; the new battery is ingeniously integrated into the frame, making it aesthetically superior to its competition.
With this battery, Magicycle Deer owners will get a 25% boost in amps, so they won't have to worry about battery life during long rides. Of course, if you weigh 290 pounds and ride mostly on hilly terrain, your range will be reduced. Wind speed, tire pressure, and pedaling habits, and terrain will also affect range.
The Juggernaut Hub Duo is equipped with a less powerful battery at only 17 amp hours.. The Juggernaut motor/battery combination results in a lower range and lesser payload -- 400 pounds for the Deer and 265 pounds for the Juggernaut.
Searching for E-bike Build Quality
A very critical aspect of rider safety is quality control during the production of the e-bike. If quality is not assured throughout the manufacturing process, rider safety can be questioned.
Most shoppers do not realize that the MAGiCYCLE company has been producing e-bikes for 16 years. That's a lot of e-bike manufacturing experience!  From the beginning, MAGiCYCLE has chosen to focus on quality control. Many e-bike brands cannot do this, simply because they do not own a factory. How can a company expect to have effective quality control if they don't even own the factory? The answer is very simple -- it cannot.
From design to manufacture to shipping, Magicycle ensures an exceptionally high level of quality control. A Magicycle Deer arrives at the doorstep of a new owner with a well-constructed e-bike that will last for many years. It is a streamlined full suspension fat tire e-bike designed to give reliable service, long life, and a safe riding experience. Don't settle for a brand that does not own its factory.
E-bike quality for the Juggernaut Hub Duo is much more difficult to evaluate. The Biktrix brand assembles its bikes in Canada, but it is extremely difficult to find in information on who actually builds the frames and components. 
Drawing a Reasonable Conclusion
This is the kind of fact-finding that is necessary to make an informed buying decision. If you are looking for a full suspension fat tire e-bike for multipurpose use, then be sure to take into account comfort, power, battery, and quality. You'll find the Magicycle Deer ESUV bike the best bang for the buck, a high quality e-bike at a great price. Visit the Magicycle Deer options from the comfort of your own home and discover for yourself.