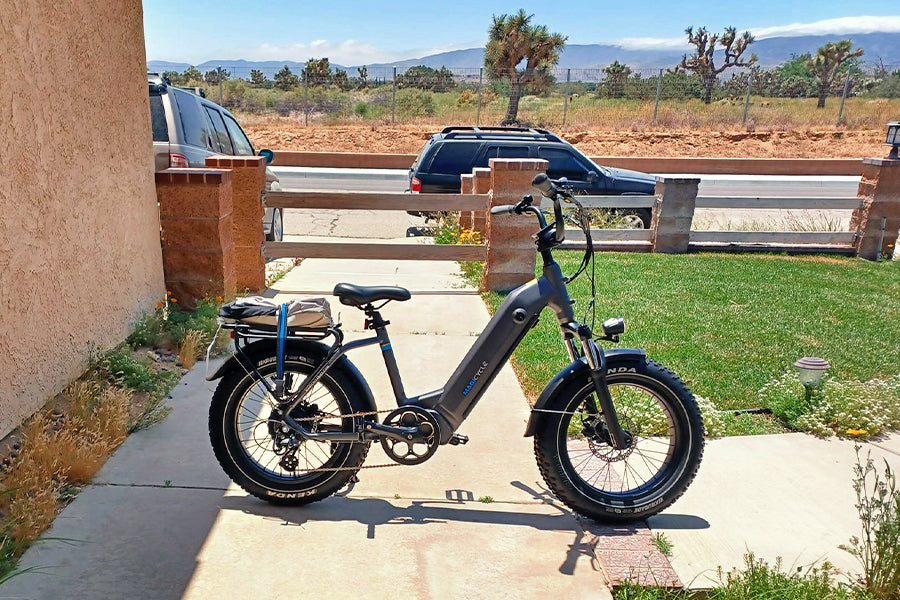 June 01,2023
What Is the Best Long Rang Electric Bike in 2023?
The Best Choice in 20" Fat Tire E-bikes
The Magicycle Ocelot Pro is a top-of-the-line Magicycle fat tire e-bike that is revolutionizing the step-thru electric bicycle market. This e-bike is designed to provide riders with an efficient, safe, and comfortable ride that is perfect for commuting, touring, or simply exploring the great outdoors. In this article, we will take a closer look at the Magicycle Ocelot Pro fat tire electrci bike, highlighting its features, benefits, and advantages over other e-bikes on the market.
The first thing that sets the Ocelot Pro apart from other e-bikes is its powerful motor. With a 500 motor that delivers over 750 peak watts of raw power, this e-bike can reach speeds of up to 28 miles per hour, making it perfect for both city commuting and rural exploration. The motor is also extremely quiet, making for a smooth and peaceful ride, even at high speeds.
Another great feature of the Magicycle Ocelot Pro is its long-lasting battery. The 52-volt, 20 amp hour lithium-ion battery provides riders with up to 80 miles of range on a single charge. This means that you can ride for hours without having to worry about running out of power. Additionally, the battery is easily removable, allowing you to charge it indoors or swap it out for a spare if you need even more range. As with all e-bikes, range is affected by rider weight, wind speed, tire inflation, weight of gear and accessories, and terrain.
One of the biggest advantages of the Magicycle Ocelot Pro is its versatility. This e-bike is designed to be able to handle a wide range of riding conditions and terrains. It features a front suspension fork and 20" X 4" fat tires that provide excellent shock absorption, even on rough terrain. The 20-inch fat tires are perfect for off-road adventures as well as daily commuting, providing excellent traction and stability. Additionally, the e-bike comes with a rear rack and fenders (both wheels), making it easy to carry gear and stay clean and dry while riding.
In terms of comfort, the Magicycle Ocelot Pro e-bike is hard to beat. The step-through frame design makes it easy to get on and off the bike, even for riders with mobility issues. The adjustable handlebars and seat allow riders to find the perfect riding position for their body, while the ergonomic grips provide a comfortable and secure grip. The e-bike also comes with a powerful LED headlight and taillight, ensuring that you can see and be seen while riding in low-light conditions.
Another great feature of the Ocelot Pro fat tire e-bike is its advanced technology. The e-bike features a 5-inch LCD display that shows speed, distance, battery level, and other important information. The display is easy to read, even in bright sunlight, and can be customized to show the information that is most important to you. Additionally, the e-bike features a twist throttle that allows you to easily control the motor, as well as 7 pedal assist levels that automatically adjust the motor based on your pedaling speed.
The Magicycle Ocelot Pro e-bike is also extremely user-friendly. It comes with a user manual that is easy to understand and follow, making it easy to assemble and get started riding. Additionally, the e-bike features a range of safety features, including a bell and powerful hydraulic disk brakes that provide excellent stopping power, even at high speeds.
In terms of aesthetics, the Magicycle Ocelot Pro e-bike is truly a thing of beauty. The e-bike features a sleek, modern design that is sure to turn heads wherever you go. It is available in three color options: Pearl White, Space Gray, and Army Green, allowing you to choose the option that best fits your personal style.
So why should you choose the Magicycle Ocelot Pro e-bike over other e-bikes on the market? The most important answer is very simple...build quality.
Unmatched Build Quality from the Magicycle E-bike Factory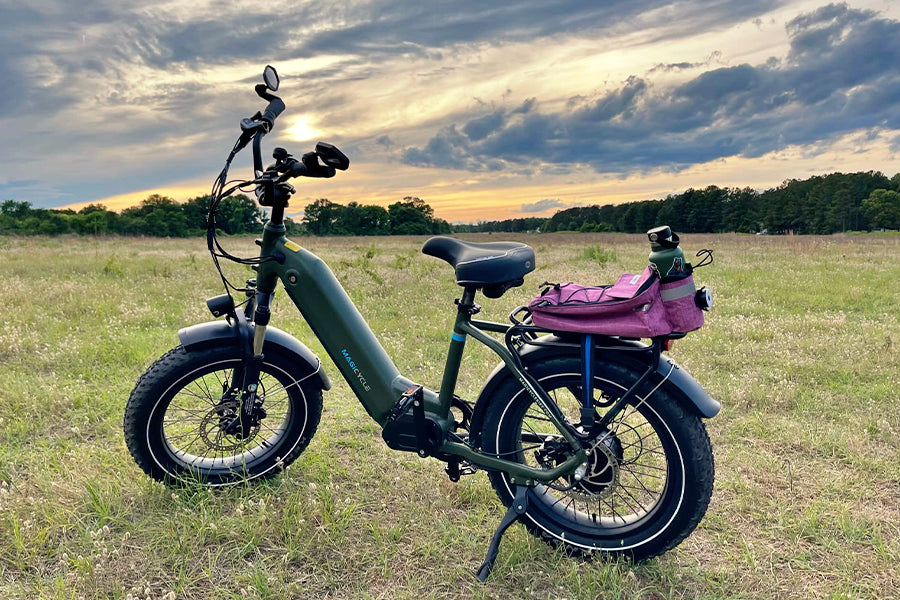 Quality is perhaps the most important factor in selecting a fat tire e-bike, regardless of whether you plan to ride it recreationally or as a commuter. Quality plays a huge role in both safety and reliability, and yet too many shoppers focus on price rather than quality. If your e-bike was not built with good quality control, then you'll spend more time repairing than riding. More importantly, in some terrains and weather conditions, it may not be safe to ride.
Factory ownership is an often-overlooked key to the level of quality that will give you many  years of riding satisfaction. The consistent performance and impressive reliability of Magicycle fat tire e-bikes is the result of factory ownership. How can a brand maintain excellent quality control if it does not own the factory that produces its e-bikes? The answer is simple -- it cannot. I some third party is building a brand's e-bikes, then the brand actually has no oversight of the build quality.
Magicycle Inc. is proud to be one of very few e-bike brands that manufactures e-bikes in its own factory, and has been building e-bikes for more than 16 years. That's a lot of experience! The 107,000 sq. ft. Magicycle factory employs 150 workers and features state-of-the-art technology with an output of 300,000 units annually. More information is available at Magicycle offiicial website or by phone at 213-559-1861.
The Magicycle brand has always focused on providing a high-quality product at a very consumer-friendly price point. Many riders have noted that no other company can match the quality and power of a Magicycle in the same price range. The tradition of quality control and economical pricing is a very important combination. 
When a company has award-winning fat tire e-bike designs like the Magicycle Design Team and the company also owns the factory that builds the e-bikes, complete quality control is available. Magicycle Inc. excels in quality control all the way from original design to manufacturing to shipping. That's exactly what consumers want for their e-bike brand. As you go through the process of selecting a fat tire e-bike to purchase, always ask this question: Does the brand own an e-bike factory?
A Comfortable Ride from Top to Bottom
Have you ever found yourself wanting to get off your bike after only 15 or 20 minutes of riding? That's a comfort problem. Long range is only helpful is your e-bike is comfortable to ride! Since you're preparing to invest in a fat tire e-bike, chances are you plan to ride often and ride far. This makes riding comfort very important! If you can't be comfortable while riding, then your e-bike will just be collecting dust in your garage.
If you have dreamed of a powerful, stylish, quality cruiser that provides both convenience and comfort, this is it. The Magicycle Ocelot Pro has a laid-back beach cruiser styling…easy to ride, beautiful, and comfortable. 
A key component of e-bike comfort is frame sizing. Many e-bike manufacturers base the frame sizing on seat tube length. That's unfortunate, because seat tube length is not a key criteria. Far more important are body-hand distance adjustment and seat low-arc sag design so that riders have enough stand-over distance for their leg inseam length. 
The Magicycle designers take these key ergonomics as the primary criteria as they work on the design of an e-bike, especially a long range e-bike like this 20" fat tire Magicycle. They know Ocelot Pro riders will take longer rides, and this makes comfort even more important. The frame geometry and quality materials make the Magicycle riding frame triangle the foundation of "the most comfortable ride ever." Owners of the original Magicycle fat tire e-bike give great feedback about the ability to take long rides comfortably without tiring.
The Magicycle Design Team has engineered the Ocelot's frame in a way that allows the pedals to be moved forward by 5cm, allowing riders to stretch their legs naturally. Five centimeters doesn't seem like much at first, but it is enough to help riders with a height of 5'5'' to 6'5'' to adjust to the most comfortable riding posture. At the same time, riders under 5'5" remain very comfortable. Magicycle owners pedal comfortably and exert smooth force, making long-distance riding easy and effortless. This helps maximize the comfort, power and efficiency of every pedal stroke, even for shorter riders.
It may seem counter-intuitive, but aluminum is a more rigid metal than steel, and so the Magicycle frame uses a high-strength aluminum alloy. It flexes less under heavy pedal pressure than does a steel frame. The result is that more energy from the effort of pedaling goes directly to turning the wheel, and almost zero energy is wasted in flexing the frame. All this comfort is a result of using the most advanced aluminum frame technology. With the resulting light weight and strong durability, Magicycle again scores high in rider comfort and safety.
Magicycle Ocelot Pro, the Best 20" Long-Range Fat Tire E-bike
The Ocelot Pro e-bike checks all the boxes for fat tire e-bike shoppers...Power, Range, Comfort, and Quality. Once you realize this, all that remains is to choose a style and color. The Ocelot Pro is available in traditional step-over and convenient mid-step models, and in three gorgeous colors...Pearl White, Army Green, and Space Gray.
Without ever leaving the comfort of your home, you can select your Ocelot Pro as you browse the informative Magicycle website. Best of all...your shiny new Magicycle Ocelot Pro will arrive at your doorstep already 90% assembled and in only a week or less from the day you place your order.