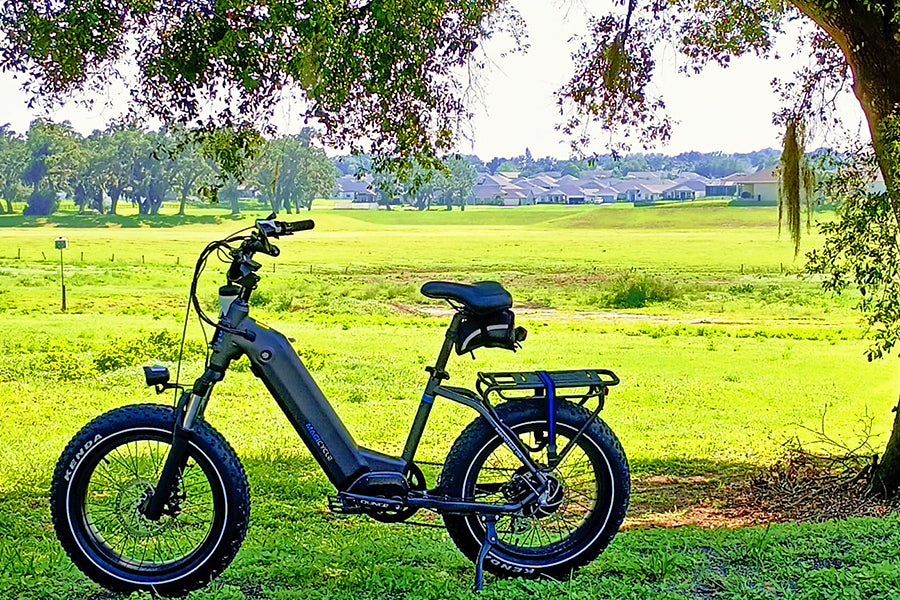 June 14,2023
Magicycle Cruiser Pro Fat Tire EBike Built For Off-Road Adventure
If you're looking for a new way to explore off-road adventures, then a fat tire electric bike may be just what you need. In recent years, these electric bikes have become increasingly popular because they offer a fun way to experience nature.

However, not all fat tire ebikes for sale are designed for off-road adventures. That's where the Magicycle Cruiser Pro comes in. This is an electric bike designed to conquer all terrains and steep hills. Well, let's get to know it.
Magicycle Cruiser Pro Specifications
Battery: 52V 20Ah Lithium Battery
Motor: 750W Rear Hub Motor
Pedal Assist: 7-level Pedal Assist
Throttle: Half Twist Throttle
Brakes: Tektro Hydraulic Disc Brakes
Fork: Hydraulic suspension front fork
Tires: 26" x 4" Kenda Fat Tires
Weight: 76 lbs
Payload Capacity: 350lbs

With the impressive specification, the Cruiser Pro is specifically tailored to meet the demands of off-road adventure. It's no wonder that the Cruiser Pro has quickly become a top choice for cycling enthusiasts looking to explore new terrain. Now, let's take a closer look at why the Magicycle Cruiser Pro is such a standout performer in the world of off-road riding.
Exceptional Traction & Control
The Cruiser Pro is equipped with 4-inch wide fat tires that provide exceptional traction and control on all terrains, including dirt, sand, mountain, and gravel. The wide surface area of the tires allows the bike to grip loose or uneven surfaces with ease, providing riders with a stable and secure ride. Whether you're tackling ste ep hills or navigating through rough terrain, this cruiser ebike will offer unparalleled control and stability.
Powerful Motor & Battery For Off-road Adventure
In addition to its fat tires, the Cruiser Pro features a powerful 750W motor with a peak of 1000W, providing plenty of power to climb steep hills easily, while the 52V 20Ah battery ensures a long lasting ride of up to 80 miles on a single charge. This combination of power and range makes it ideal for off-road adventure, allowing riders to explore new terrains without worrying about running out of battery power.
Reliable Brakes for Added Safety
Riders may face challenging terrain on their off-road adventures, which is why many fat tire electric bikes for adults are equipped with reliable braking systems. One important feature of the Cruiser Pro fat tire ebike is its hydraulic disc brakes. These brakes provide excellent stopping power, allowing riders to control their speed with ease. With these reliable brakes, the Cruiser Pro will offer added safety and peace of mind for adventurous riders.
Conclusion
To sum up, the Magicycle Cruiser Pro is made for off-road adventure. Whether you're tackling rough trails or exploring new terrain, this ebike is the ultimate companion for any adventures rider out there. With its powerful motor, wide tires, and safety features, the bike can handle any terrain you ride on.
So why settle for an ordinary bike when you can cruise in comfort and conquer the toughest trails with the Magicycle Cruiser Pro? Don't just take our word for it - get yours today and experience the ultimate thrill of off-road cycling!