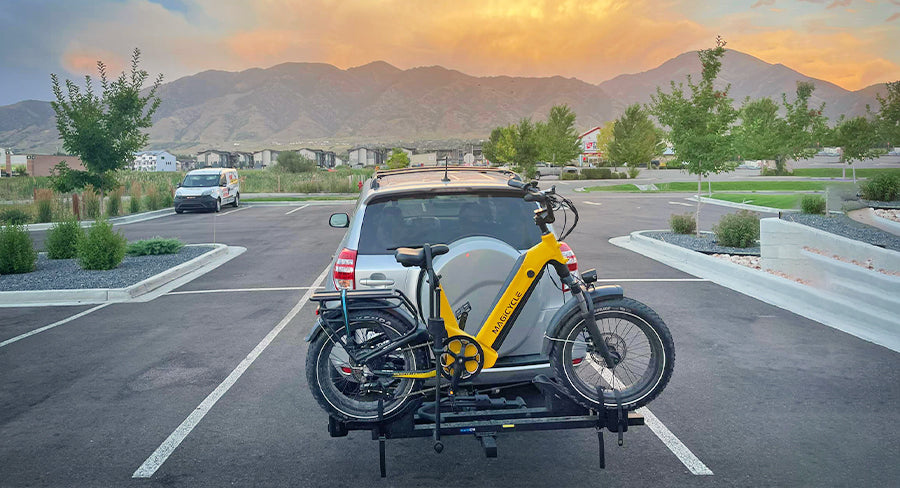 September 20,2023
Is a Hitch Bike Rack Worth It?
The market of electric bikes is expected to grow to a size of $119.72 by the year 2030. It shows that this market is rapidly growing, and the growth comes not only from the city bikes but also from the mountain bikes. When it comes to mountain or trekking bikes, many people use a hitch bike rack to carry them to their camping site with their car and then ride it.
However, if you have any doubts about this accessory, here we will discuss whether a hitch bike rack is worth it or not.
Uses and benefits of a hitch bike rack
Investing in a hitch bike rack will be significantly beneficial because of the following factors.
Loading and unloading your bikes and electric bikes is convenient
Consider loading and unloading the electric bikes from the roof of your car and from inside the car. Now, consider simply loading and unloading it from the hitch rack. It will be a much quicker, easier, and simpler experience.
It is safer than carrying the bikes on top of the vehicle
Carrying electric bikes on the top of your vehicle is not a safe option. Even when you tie them tightly on the top of the car, there is always a risk of banging some hurdle that height restricts the area, and that will damage both your car and bike. The hitch bike rack will save you from that.
You can fully utilize the internal space of your car
People who have SUVs are often seen utilizing the back of their cars to keep their bikes. That may do the job at the cost of rendering that specific part of the car useless. If you want to carry more stuff or take your family with you, it will be a huge problem. Going for a hitch bike rack will always keep that space free and clean.
Wide compatibility makes these available for almost everyone
These racks are very intuitively designed to be compatible with every car form factor and every model that comes in those different form factors. It allows every user to utilize and enjoy the benefits of that rack.
A hitch bike rack supporting tilt or swing allows you to access the trunk
The modern-day racks come with tilt or swing designs. This design ensures that the bikes can get away from the boot door so you can access it as normal while the bikes stay loaded.
Hitch bike racks with locking mechanisms can help secure your bikes
Carrying and storing the bikes out of your car will always give you thoughts of protecting it from getting stolen. Not anymore, since the hitch bike racks come with electric bike locking mechanisms ensuring proper safety for your bikes. Now, you can enjoy your trips with great security and peace of mind.
Potential problems of a hitch bike rack
Although there are several uses and benefits of the hitch bike rack for electric bikes and their users, there are some consequences, too. So, let's have a look at some consequences that cannot be ignored.
Depending on the driving position of the vehicle, this rack can obstruct the rear-view
If the electric bikes loaded on the hitch bike rack block your rear view while driving, then it can be a huge problem. In that case, this rack will not be useful for that specific car.
There is always a risk of damaging your car.
You always worry about damaging your car, especially when you must suddenly hit the brake. It is a real issue even when most racks come with pedaling for the safety of the car.
Not every vehicle may support the installation or easy installation of a hitch bike rack.
If your vehicle does not support installing it, then it will not be a good investment at all. Similarly, say that you must install it only once or twice a year, but the car does not support easy and quick installation. That is also the case where it may not be a worthy investment for you.
Final Words
It is very important to understand that hitch bike racks will not have the same results for everyone. Some people will find it very useful while others may face its problems outweighing the benefits. So, if you are deciding to get it installed on your car, consider your usage conditions and requirements to know if it will offer you a worthy experience or not. In most cases, it will be a worthy investment.