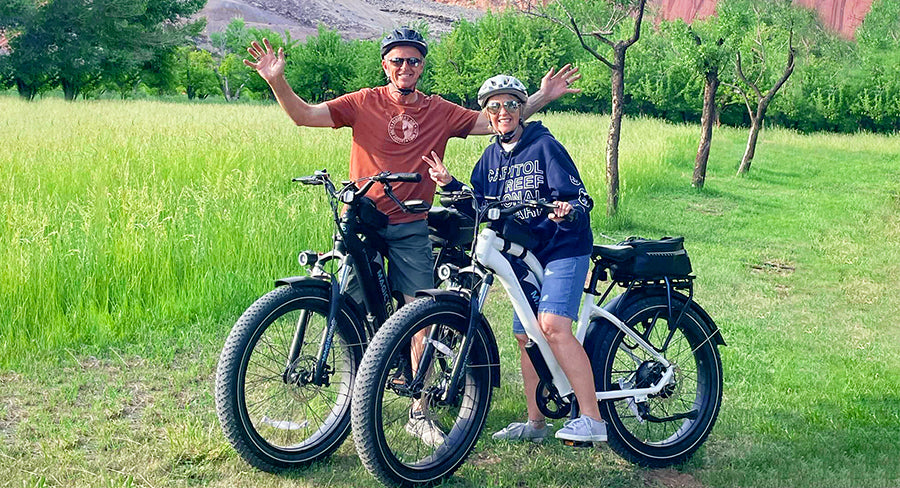 September 07,2023
How to Choose Electric Bikes for Women?
The popularity of electric bikes is continuously increasing, and the consumers are not only men, but women also tend to use Ebikes. Around 41% of the electric bike owners in the USA as of 2022 were women, which makes it clear how popular these are among women. Due to this popularity, different manufacturers offer bikes designed specifically for females with added comfort, convenience, and other useful features.
So, this guide will help you learn how to select electric bikes for women.
Understanding how Electric Bikes work
Before you buy one of the electric bikes for sale, understand how they work. In a quick overview, it may seem like a combination of traditional bikes with modern tech and motors. However, these are much more than that. These bikes have different options, including a throttle control that runs like any other electric vehicle.
Similarly, there are pedal assist bikes where you must pedal, but it does not require much force. It is because these bikes use electric motors to assist you while pedaling. Apart from the riding basics, these bikes often come with smart sensors and ride and performance tracking features.
Different factors you need to consider when choosing electric bikes for women
Electric bikes for sale provide a versatile transportation experience. They ease the riding experience while you still get a work-out effect. So, if you are looking to bridge the gap between motorized vehicles and traditional bikes, here are all the factors you must consider:
Frame structure and size
You need to start selecting Ebikes by checking their frames. The ones made for women come with a shorter top tube to compensate for the shorter torso and leg region in women. These frames provide more stand-over clearance of an inch or two at least. Additionally, you must check the distance between the handle and the seat to see how much stretched your Ebike will make you.
Seating design and comfort
Seating position and comfort are among the key factors everyone must consider. The female body has wider sit bones than men, and to offer the best comfort naturally, the seats on these bikes are generally wider. Along with more width, these seats have enough padding that is neither too much nor too little, and special cut-outs in the padding make it even more comfortable.
Handlebar shape and size
The shape of the handlebar has a lot to do with your comfort and riding experience on electric bikes for adults. Starting from their size, the handlebar must be as wide as your shoulders. When it comes to design, you have 3 options, and here is the significance of each:
Drop bars are good for road bikes as they are aerodynamic but uncomfortable for everyone.
Riser bars slightly rise towards the forward, and they provide a slightly upright riding position because of the rise in their design.
Flat bars are common among most bikes, making you sit upright, which is comfortable for urban and mountain rides.
The overall weight of the bike and portability considerations
Electric bikes usually have slightly higher weight than regular bikes. However, manufacturers try to cut some weight when making them for women. It helps in handling, storing, and especially riding uphill. Some options even offer foldability to make them even more portable so that women can easily carry their bikes in other vehicles.
Built-in convenience and safety features
All Ebikes have convenient and safety features that give you confidence while riding. The safety features include efficient braking systems like having disc brakes on one or both tires. Hence, your safety by efficient braking is ensured. Some convenience features that you may look for include:
Headlight, taillight, and indicators
Bells for signaling
Multiple reflectors on all sides of the bike
Feature to connect with your smartphone
Accessories and customization options
Things like handlebars, seat height, pedal position, etc., can be customized to your needs. So, look for a bike that offers customizing these. Additionally, a bike compatible with fenders, baskets, pannier racks, and other accessories as per your needs will be more practical.
Electronics' performance
Motors, batteries, and other electronic components also hold high importance because they separate the bike from the regular ones. So, look for the top speed, range, charging time, and other smart features before picking a bike. For checking these features, you may consider your average commute distance.
Final Words:
Choosing the right electric bikes for women requires combining your preferences with a technical understanding of e-bikes. Women usually prefer comfort and customization of accessories over performance, but these may vary from user to user. So, if you are looking for electric bikes for sale for women, we hope that this guide will help you find the best one.
Remember that when making this investment, you don't need just any other one of the electric bikes for sale. Instead, you need a bike that checks all your requirements, provides the best comfort, and seamlessly rides on any terrain.