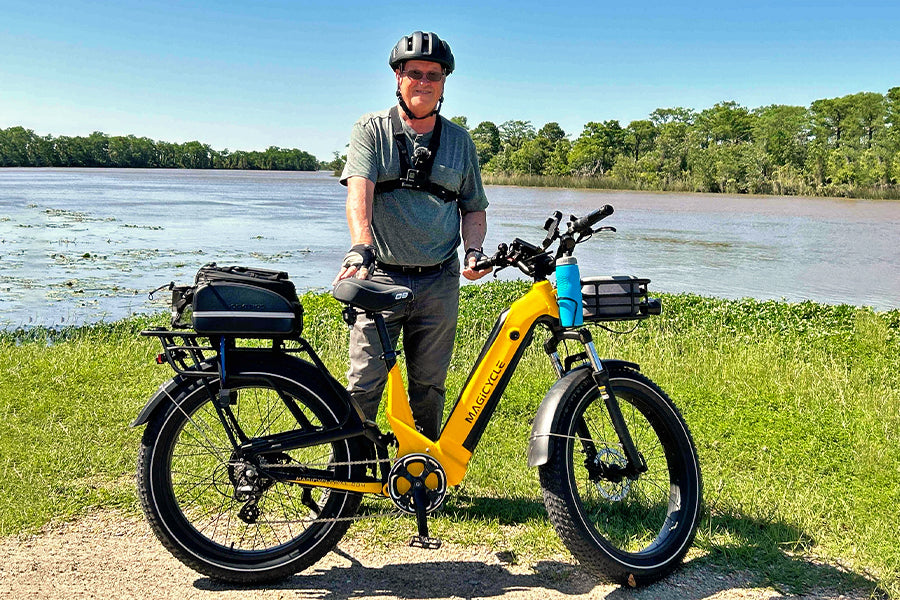 May 17,2023
Best Ebike SUV for Senior Citizens
Some e-bike fans picture senior citizens as elderly and timid bike riders, traveling only on streets or paved bike lanes. That may have been partially true 20 years ago, but it is certainly not the case today. Seniors are riding all types of e-bikes, and a large percentage of fat tire e-bike sales definitely go to seniors. 
Still, it's difficult for some people to picture seniors tackling terrain that's far more difficult than city streets. This is especially true when thinking of an all-terrain cruiser, and EMTB, or an ESUV bike. By its very nature, the mention of an electric sport utility bike (ESUV) conjures up images of steep trails in mountainous terrain and rough pathways through dense forests. This might make it difficult to imagine that riders over the age of 60 would have any interest in an Ebike SUV. Or perhaps some interested consumers would think that electric mountain biking is too dangerous for the senior age group–or even the middle-aged crowd.
If you take a closer look, you discover a far different picture. Modern-day seniors are much more fit and active than in years gone by, and many are quite capable of activities such as off-road biking. Further, off-road biking has become an extremely popular activity in recent years, and as a result the industry reports that off-road e-bike sales are growing in record-breaking numbers. Since March of last year, mountain bike sales have grown by 60%. Total sales in the US last year reached $1,464,000,000 — and more than 47,000 mountain bikes are being sold every day. Electric mountain bikes are claiming their share of the bike industry growth.
Seniors are definitely included in the growing number of off-road bikers. Interestingly, outdoor activity in general has been declining in the United States for several years, and yet the interest in mountain biking is still growing. It is important to note that enjoying an all-terrain fat tire e-bike does not necessarily mean shredding a tough technical trail at high elevation. Like everyone, seniors must evaluate their physical fitness and general health, and ride in terrain that is appropriate.
Be sure to not let fear of trying something different keep you away from e-biking. Many seniors are quite capable of riding an ESUV even though riding a conventional bicycle might be difficult. The great advantage of an electric bike is that one word…electric! It means there is power from an electrified motor to assist you with pedaling. Serious effort is no longer necessary for enjoying a long bike ride. In fact, no effort at all is necessary. On days when pedaling seems too hard, you can choose to ride entirely with motor power…no problem!
For some seniors, riding a difficult trail is perfectly appropriate. For others, it could mean sticking to easy gravel roads or groomed forest trails. Regardless, senior citizens can certainly benefit from riding an ESUV, whether on a sandy beach or smooth pavement in a local neighborhood.
People of All Ages are Loving ESUV Bikes
Everyone from teenagers to senior adults can enjoy riding an electric sport utility bike (ESUV). Even if you have not been on a bicycle in many years, you don't need to feel that you can never experience that pleasure again.
Even if you are suffering from knee pain, back pain, etc., that doesn't mean you can't ride. Of course, consult your doctor, but there's a good chance that you can enjoy e-biking and be more healthy because you are exercising.
Discover Transportation that Saves Dollars
Most ESUV bikes are suitable for multipurpose use. Think of them as a combination of the best characteristics of a comfy cruiser and a strong  mountain electric bike for adults. You might, for example, enjoy a remote forest trail on the weekend. Then on Monday, you could be loving the fun and economy of commuting to work on your ESUV. You might even decide to take an off-road shortcut on your way home that evening! Riding an ESUV gives you options.
This means that a good ESUV is not restricted to recreational use. It is also excellent for commuting to your workplace, even if you have a long commute of 20 or 30 miles each direction. 
Regardless of age or your current level of fitness, ESUV bikes are a possibility for most folks. Sure, you'll need to exercise a little common sense about where you ride, how fast, and how long you ride. But all those things are easily manageable, and there could certainly be an ESUV in your future, saving you a lot of cash on transportation!
The average American has expenses of more than $15,000 annually just for commuting to work, routine driving, and perhaps an occasional leisure trip. When you add an ESUV to your life, you can give yourself a very nice discount on the cost of getting from Point A to Point B. Seniors love commuting to work worry-free. You know you'll get there on time and you'll do it for a mere fraction of the cost involved with an automobile…or even public transportation. In fact, you could easily save more than $400 monthly compared to automobile expenses. 
If you are a senior who is past the time of commuting to work, you can still save money riding your ESUV. When you have to make a quick trip for a gallon of milk, just leave the car in your driveway. The savings add up, and you'll have a much more enjoyable journey on your electric mountain bike! Exactly how much can you save? Everybody's different, but it's safe to say you're looking at substantial savings every month. Your monthly transportation savings could easily cover the payment on your shiny new ESUV.
Enjoy Better Health on an ESUV
Enjoying a bike ride is great, and saving money on transportation is always a good thing, but nothing is more important than good health. Here are some very good reasons why riding an ESUV bike could be the right activity for a senior adult:
Exercise is key to health and happiness. Your ESUV gives you a way to begin at a perfectly comfortable level of exercise that's just right for you. It's important to exercise prudently, and Magicycle makes it very easy to gradually increase your level of fitness. This is true for everyone, even those dealing with injury, arthritis, deteriorating joints, and other restricting factors.
Too many seniors experience injuries from loss of balance and falling, and that's while walking and standing–not necessarily while working or exercising. Regularly riding an ESUV can improve both leg strength and your sense of balance, as documented here.
ESUV bikes can also help seniors avoid Type-2 Diabetes. Studies show that seniors who get 30 minutes or more of cycling exercise daily can lower their risk of developing Type-2 Diabetes by up to 40%. This is very important, as Type-2 Diabetes is extremely common and dangerous, as well as inconvenient.
Live longer with e-biking! With an ESUV, regular exercise is easy, and that promotes better mitochondrial maintenance. Healthy mitochondria are key to a longer life. The consistent exercise also strengthens muscles throughout your body. Not only the large calorie-burning muscles like your glutes and quadriceps, but also all those many small muscles that play a supporting role around your knees, elbows, ankles, neck, etc.
Electric biking gets you outdoors! The health experts remind us that fresh air and sunshine are amazingly good for us:
When the sunlight hits your skin, Vitamin D production begins immediately, and your body will appreciate it!
Sunlight improves recovery time. Healing comes more quickly and sunlight also helps reduce pain.
Fresh air and sunshine are good for your brain! They increase brain activity, which is great for anyone, and especially seniors. People who increase their time spent outdoors tend to be significantly more physically active. Fresh air and sunshine improve your mood and give you a sense of well-being. You eat better and sleep better. With more time outdoors, the brain produces more serotonin, which aids appetite management and sleep. You simply feel better, and your friends and family enjoy your company more because the exercise also improves your mood.
As we age, it becomes more important than ever to stay fit, active, and get some time outdoors. This makes your ESUV an extremely valuable investment in improved health!
Good Old-Fashioned Fun
It's true, an ESUV bike is great for economical transportation and excellent for health improvement, but beyond that…riding this type of fat tire e-bike is also a whole new world of fun! Older adults suddenly discover that they can ride like a kid again. The advantage of pedal assistance from the motor allows them to get back into a once-loved activity, and now that love is rekindled.
Another big plus is that bike riding is an activity perfect for companionship. You can plan rides with family — perhaps with your grandchildren. If there is no family nearby, you can find other senior adults with the same interests, and there may even be a riding club in your area. You'll also discover that everywhere you ride, there are people excited to see your ESUV and eager to know more about it. You'll make new friends that you would never have met without your ESUV.
Meet the Magicycle Deer ESUV
Economical transportation, better health, fun and family are the reasons Magicycle Inc. has added a full suspension electric mountain bike to their line of high quality e-bikes. "Full suspension" simply means this ESUV has extra suspension, and of course, that makes riding more comfortable for seniors. In addition to Magicycle's excellent front fork suspension, this ESUV also has suspension for the rear wheel. The full suspension really helps absorb the bumps, whether on the road or on the trail.
Known as the Magicycle Deer ESUV, this beautifully designed full suspension ride (also known as a full Suspension e-bike) is as quick, strong, and beautiful as it's namesake, the mountain deer. The Magicycle Deer ESUV maintains the much-admired Magicycle tradition of combining high quality with consumer-friendly pricing, along with easy online ordering.
This freshly-designed ESUV features a high-torque 750 watt motor powered by a  52 volt 20 amp hour battery. The full suspension design is complemented by hydraulic disk brakes, 26″ X 4″ fat tires, seven fully customizable pedal assist levels and a color LCD display. With the Magicycle Deer, Magicycle Inc. continues its strong brand emphasis on quality control and customer satisfaction.
"We are excited to fill a void in the ESUV market with the Magicycle Deer," said Wade Wei, Magicycle CEO and founder. "It has been very difficult for consumers to find a suv step-through bike. The Magicycle Deer combines the rugged strength of a full suspension mountain bike with the convenience of step-through design."
Anyone shopping for a full suspension electric bike will want to put the Magicycle Deer at the top of their list. It is an unbeatable combination of quality, durability, comfort, power, and consumer-friendly pricing. See it here for more details, on both styles…step-thru and step-over.