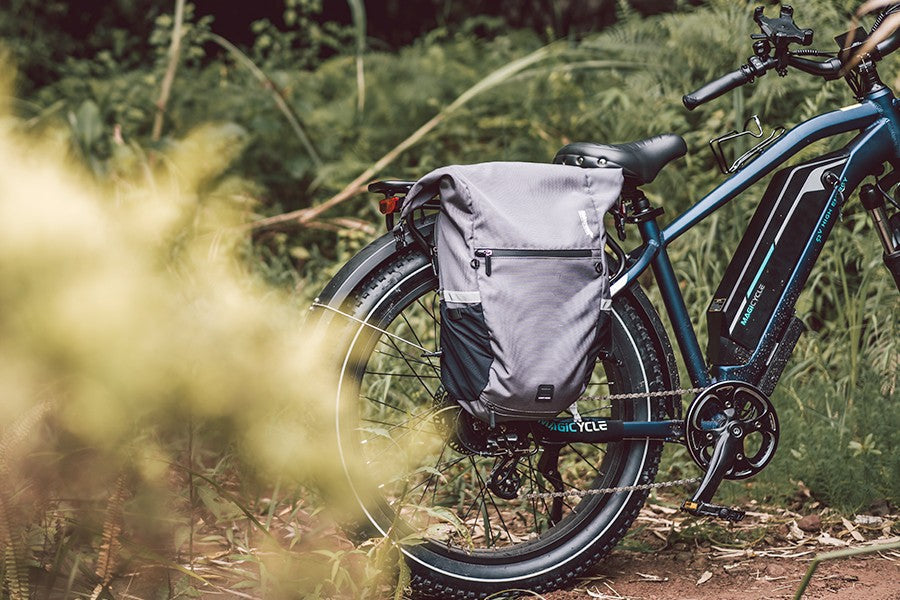 April 06,2023
Magicycle Ebikes - Your Best Choice for Ebiking
The Choices are Many for E-bike Fans
E-bikes are a great addition to life for most people. If you're interested in outdoor fun, exercise, pain relief, improved health, social activity, etc., then you're definitely interested in e-biking.

Anyone shopping for an e-bike has lots of choices. The incredible booming market for electric bikes has brought a huge variety of e-bike brands to the marketplace. Some are good, some not so good, and some are terrible. The huge number of brands also brings a wide variety of prices. On the low end, you can purchase an e-bike for less than $400 at some big box stores in the US. On the high end, you can pay up to $5000. And believe it or not, there are 9 brands ranging from $10,000 all the way up to $80,000.

That's a lot of ebikes for sale, lots of choices, and lots of prices. With all this variety, why choose MAGiCYCLE? What is it about this brand that makes it stand out from the crowd? Three key points...quality, power, and value.
Quality

From the beginning, MAGiCYCLE has chosen to focus on quality control. Many e-bike brands cannot do this, simply because they do not own a factory. How can a company expect to have effective quality control if they don't even own the factory?

Magicycle is not a normal e-bike company. Magicycle owns the factory, and that factory has been producing quality electric bikes for adults for more than 16 years. Every Magicycle begins with the award-winning Magicycle Design Team, originators of the amazing frame design that makes their e-bikes both visually appealing and reliably strong.

You will never find any cheap steel in a Magicycle frame. Magicycle has chosen to use 6061 aluminum alloy. This top-quality alloy provides exceptional strength, corrosion resistance, lightweight, durability, and a defect-free highly pleasing appearance. All this is made possible by employing technology borrowed from the aviation industry. The Magicycle factory uses experts in hydroforming and cataphracted weld joints…regarded as the best welding technique in the world.. This means that Magicycle customers receive a high-tech frame that is strong, safe, and beautiful for unequaled riding stability and comfort.
Advantages of Owning the Factory
Magicycle has exemplary quality control over the entire bike-building process, from design to manufacture to shipping. When a Magicycle is delivered to a new owner, the box contains an e-bike that will last a very long time, giving reliable service and a safe riding experience. Quality matters — don't settle for an e-bike from a brand that does not own the factory.
Choosing Quality Components
Because they control every aspect of design and manufacturing, Magicycle gets to very carefully select the components. Only well-known brand names are invited to supply motors, batteries, LCD displays, brakes, etc. For example, an unusually powerful 52-volt battery comes on every Magicycle. That battery is supplied by the same company that supplies batteries for Tesla. Only high-quality components go onto a Magicycle! That's a big factor in the confidence Magicycle owners have in their e-bike.

Another important component is the LCD display, providing all the information you need to safely enjoy your ride. Many brands like to "go cheap" with their display, but not Magicycle. The Magicycle display is in easy-to-read full color (not grayscale), has a very bright screen, and has many features that are customizable to the individual rider. That same quality is consistent throughout the entire list of e-bike components.

The best quality at the best price is a Magicycle priority. This is equally true of brakes, pedals, motors, etc.
Power
Speaking of quality components, the motor is a major component of any e-bike. Again, Magicycle selects a name-brand manufacturer with a reputation for quality motors...long-lasting powerful motors with CE, ISO9000, ROHS, and 3C certification. In fact, the Magicycle motor yields more torque than any other e-bike brand competing with Magicycle.

Imagine owning a motor that has the same amount of torque as an 800cc motorcycle -- truly amazing! That's why Magicycle riders get faster starts for added safety in city traffic conditions. That's also why the Magicycle Cruiser has such amazing hill-climbing strength.
750 Watt Hub Motor
For easy, comfortable, and relaxed riding, this mighty hub motor is an obvious choice. That choice is confirmed when you realize that hub motors are far more economical than mid-drive motors. With 100 watts of peak power, the Magicycle hub motor is a perfect size. If you settle for a 500-watt motor, your e-bike will feel underpowered on the steep hills.

The design of mid-drive motors requires a much larger number of moving parts. This naturally means more wear and tear, along with a greater possibility of motor failure. Mid-drive motors are also more complex to install or replace, which adds to the expense.
Powerful, but Easy to Ride
Even if you are new to e-biking, with a hub motor you can very quickly ride with confidence. For example, shifting is often unnecessary if your bike is powered by a hub motor, and you can even shift when the bike is stopped. But with a mid-drive motor, the bike must be moving before the rider can shift, and while riding it must be shifted frequently.
Value
The extreme increase in the number of e-bike brands can make it tough on shoppers. Yes, it is very important to choose an e-bike brand that owns its factory. However, for many shoppers, value is a major factor. They understand the need for a quality product, but shoppers also feel the pinch of inflation and tight budgeting.

This is where MAGiCYCLE rides to the rescue! Even with several new models now available, such as the Ocelot Pro or Jauarandi folding model, the value remains constant. MAGiCYCLE is committed to providing shoppers with a high-quality ride that is value-priced.

This is true not only in terms of quality but also in relation to after-sale service. This commitment to customer-first service and top quality is reflected in the 2-Year Warranty. Additionally, Magicycle provides a generous 15-day return policy, as well as free shipping to the customer's residence.
Exemplary Customer Service
The superior quality control makes after-sale problems a rarity for Magicycle riders. Further, if some problem does arise, Magicycle is there to assist with resolving every issue. A quick and simple email to Magicycle begins the process, and immediately the Magicycle Support Team goes into action. This is a vital part of their customer-first emphasis.

No wonder so many Magicycle owners purchase a second Magicycle and even a third. They know that the Magicycle Support Team is on their side, and in case of some rare difficulty, it will be promptly resolved. In the unlikely case of a serious problem, Magicycle will even send a professional e-bike mechanic directly to your doorstep.
Convenient Online Shopping
All things considered, MAGiCYCLE remains the best choice for e-bike shoppers. Indeed, no other similarly-priced brand offers the quality and power of a MAGiCYCLE. Choose yours here and get it shipped free to your doorstep