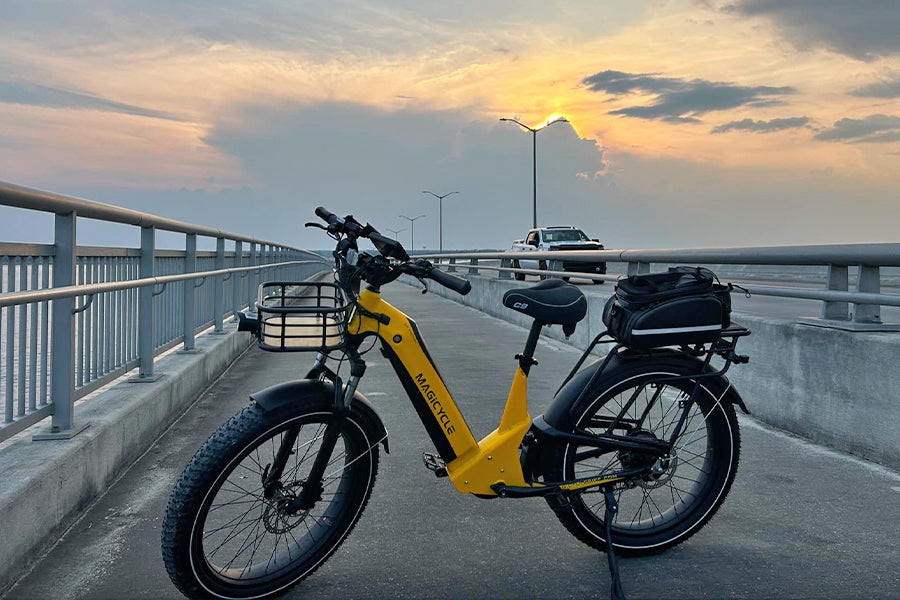 July 18,2023
Is A Full Suspension Ebike Great For Off-Road Adventures?
A full suspension ebike defines the best of the e-bike world. It's equivalent to those powerful offroad and racing vehicles. They are designed to perform incredibly under any terrain and weather conditions.
So, if you are wondering whether a full-suspension electric bike is great for off-road adventures, the answer is yes. These bikes are built to deliver the most comfortable ride, essential on off-road terrain.
However, your experience depends on the bike you choose. There are so many full suspension ebikes for sale on the market today that choosing the right one might become a bit overwhelming.
Don't worry, though. We will help you find the right machine for the perfect off-road adventures.
What makes a full suspension ebike good for off-road?
The term full suspension comes from the presence of a dual suspension system on an ebike. So, one ebike features shock absorbers on both the front and rear side is a full suspension ebike. Their features include the following:
Full suspension system
You may not understand the advantages of all-around cushioning full suspension ebikes offer until you ride through the rough terrain. These are the main characteristics of off-road terrain. It exposes you to some of the greatest challenges you have ever met, with substantial unevenness causing the bike to bounce all the time.
Such vibrations may put too much pressure on your body muscles. Many riders have given up on riding because of the muscle fatigue and potential back injuries that come with rough-terrain rides.
Choosing the right amount of shock absorption is extremely crucial. You want something that will level those vibrations and take the hit from bumps on your behalf.
A full suspension does this perfectly. The front suspension (mostly hydraulic) protects your upper body. The rear suspension (mostly spring), on the other hand, ensures the strain does not reach your back.
In summary, the suspension system plays the following roles:
Reduces strain from the road. By smoothening the vibrations, your bike offers the ability to ride far and wide without getting tired.
Better traction. One of the main reasons you may lack traction is when the wheel cannot stick to the ground. This happens when there are too many vibrations, which the suspension system handles. Better traction means more balance and control.
More speed. You may have noticed that speed is difficult to gain and maintain when riding rough terrain. This is partly due to the road shocks and the lack of enough traction. Thesuspension system does a great job of ensuring you gain momentum more easily.
These factors are enough to convince any rider that a full suspension electric bike is all they need for off-road activities. The comfort, the speed, the traction, and the balance are all features of a perfect machine for such terrain.
Fat tires
Another crucial feature that defines a good full suspension ebike is the tires. Many of these ebikes today come with fat tires. The extra size promises more benefits than one can get from a regular ebike.
A full suspension fat tire ebike offers the following:
More comfort. Combining a fullsuspension with fat tires creates the most exclusive ebike for any rough terrain. It's no wonder full suspension fat tire ebike is the best electric bike for adults. Fat tires play a role in increasing traction.
Better balance. Fat tires perform extremely well, even at low pressure. At this point, they increase the surface area, allowing you to cover more ground, which translates to greater balance. You can ride any off-road terrain for a long distance without feeling any strain that comes from the lack of balance and control.
More grip. The off-road terrain can be quite unpredictable. You will easily come across muddy areas, slippery parts, large obstacles, and similar features that increase the challenge. You need your tires to hold their ground, or you will easily slip and fall. Fat tires perform this task incredibly.
Even though fat tire full suspension electric bikes are relatively more expensive, the cost is worth everything. They are a long-term investment for a rider who prefers versatility. 
How to choose the best full suspension ebike for off-road adventures
Search the internet, and you will meet a ton of ebikes for sale. Not all of them are good for your riding needs. So, when it comes to off-road adventures, it's extremely important that you choose a good electric bike.
Consider the following features:
Excellent power. Every electric bike for sale uses the motor and battery power as their main selling points. This is even more important for off-road bikes. You need to choose something that will deliver enough leg-power support. A motor offering more than 600W output powershould be a perfect fit since it will have an equally powerful battery.
Braking system. Hydraulic disc brakes offer the best braking power. And since safety is paramount in any riding adventure, choose a bike with branded brakes.
The brand. Reliability and trustworthiness are paramount when it comes to choosing the right electric bike. Consider a brand that focusing on customer satisfaction by creating high-quality and yet affordable products, like Magicycle.
What is the best full-suspension e-bike for off-road adventure, then? It should be the Magicycle Deer. With its incredible performance, this Ebike SUV is great for off-road adventure. Choose it for your off-road adventure, and you will not regret it.
Conclusion
Is a full suspension electric bike great for off-road adventures? Absolutely. These incredible electric bikes are built for the most challenging terrain. Invest in a high quality full suspension ebike, and you can go anywhere.