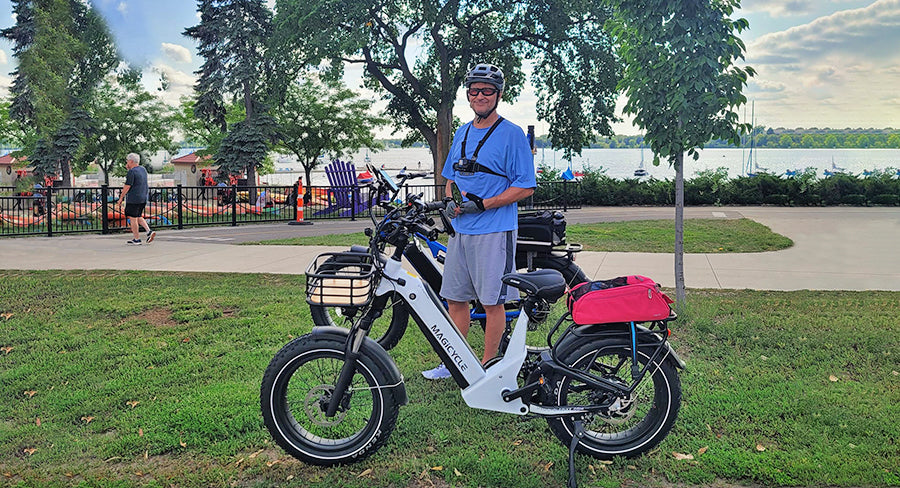 September 05,2023
How to Choose an Electric Bike for Delivery?
Bikes are up to 60% quicker for deliveries than vans and other motorized vehicles. However, today, we must consider many other factors like comfort, rider ease, and eco-friendliness. Electric bike for delivery makes the best choice considering all these factors. It brings many benefits that attract new people to the delivery industry.
So, if you are also one of them, this article will help you choose one of the electric bikes for sale specifically for delivery purposes.
Why is picking an electric bike over a motorized vehicle better for delivery?
An electric bike for delivery rather than a regular bike or a motorized vehicle brings multiple benefits. These benefits include:
These are cost-effective
Ebikes require a little effort from the rider
You get the health benefits from a workout
E-bikes are good for the environment.
These are easier to move around.
There is always a growth opportunity since one Ebike can be used for multiple delivery jobs.
Start the selection by understanding delivery requirements.
So, when starting the selection of electric bikes for sale, you must understand the core requirements of the job. You must select a bike according to the location you will be riding the most. For example, city delivery needs navigation with frequent stops. Meanwhile, suburban and rural deliveries need you to travel more distance and have more storage.
Factors to consider when choosing an electric bike for delivery.
Once you know what type of deliveries you will be doing, you can select an electric bike for delivery by considering the following factors:
Battery life and operating range
Since you are going for an Electric bike, you don't want to face the frustration of the batteries dying out. When this happens, you must manually paddle the bike for the rest of the day. So, having a bike with enough battery range is essential. Delivery is an unpredictable industry where you can have more orders than normal. So, selecting a bike with more range than you need is optimal.
Motor efficiency and working methodology
You must check how efficient the motor is with pulling the additional weight. You may take a test ride with some test weights to check the motor's efficiency. Also, check what working methodology the bike offers. For example, if it offers pedal assist, it will benefit health. Similarly, if you get throttle control, it will be good for speed and comfort. A bike that offers both options will be the best since riding in hilly areas will be much easier.
Payload capacity
Checking the payload capacity of an electric bike for delivery will tell you about the structural strength. Additionally, it tells you how powerful the motor system of this bike is. Consider the bike after adding your body weight and the average payload you must carry for each delivery. This way, you will pick a safer bike.
Comfort and ergonomics
Riding a bike for delivery is unlike riding a bike for your hobby. That's why your bike needs to be comfortable. You might be riding that bike for extensive hours, so it must be ergonomic. You can start checking with the saddle positioning, padding, and ergonomic design. The second most important thing is the handlebar size and design. Lastly, check if the bike offers adjustability for the handlebar and saddle.
Storage solutions supported
Storage solutions supported by electric bikes depend on the nature of delivery work. For example, some bikes come with storage solutions integrated for food delivery. Similarly, some bikes have space and options available where you can attach the storage unit of your choice. These may include read carries, pannier racks, and front baskets. Whichever one you get, ensure it is safe from rain, theft, and other environmental elements.
Weather protection
Speaking of the environmental factors, the delivery Ebike must have weather protection. Mudguards and fenders protect the rider from splashes. Meanwhile, the electronic components and connections must be protected as well. It is because you never know when you must head out to make a delivery.
Safety features
Lastly, look for the safety features and options on your bike. You need everything from effective brakes to stable tires to easily deliver goods. Moreover, the bike needs to have smart theft-protection alarms and features. Additionally, having reflectors, bells, and lights will increase your road visibility for others, making you safe.
Final Verdict:
If you are in the delivery industry, having the right electric bikes is necessary. It is one of the best trends of the current age since there are multiple benefits for the rider, the industry, and the environment. No matter which type of delivery work you plan, we hope that our guide has helped you decide to find a bike that is perfect for you in every aspect.