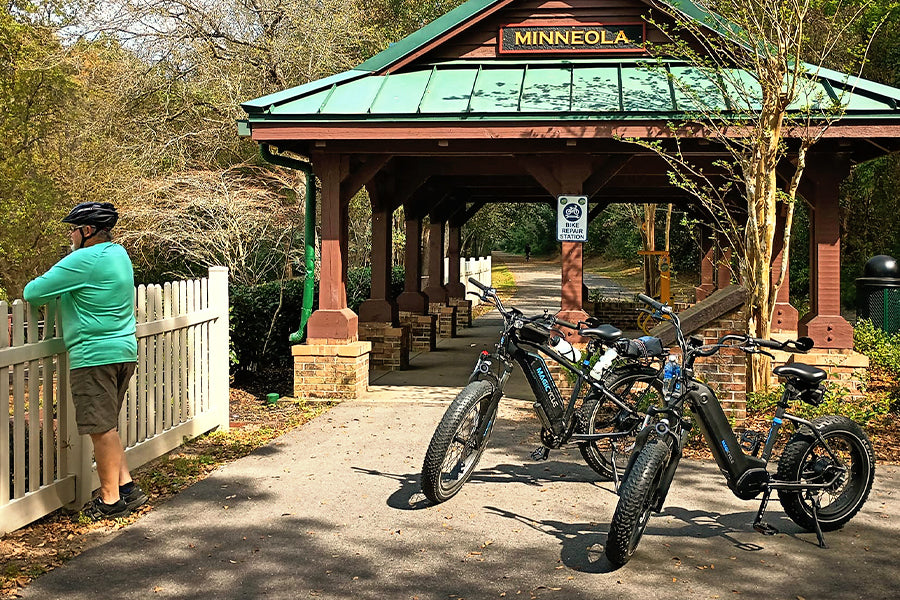 April 06,2023
Electric Cruiser Bike: Meet the Ultimate All Terrain Cruiser Pro
Magicycle Cruiser Pro...it Checks all the Boxes
Not every e-bike brand can hit a home run with each of its e-bike models, but Magicycle does an exceptional job. The Magicycle Cruiser Pro is a perfect example of a full-size electric bike with exceptionally high quality and beautiful cruiser e-bike styling. It is also a fat tire e-bike, which makes it fit right in with the booming electric fat tire bike market.
A few e-bike riders are interested only in commuting. A few others are interested only in off-road adventures. But most riders prefer an e-bike that can work well for a variety of interests. If that's you, then fat tire e-bikes are definitely the best choice. The pedaling assistance that comes from a strong motor and the versatility of the 26" X 4" fat tires open all sorts of biking possibilities. Even people who thought their bike-riding days were long gone are finding they can once again enjoy biking for pleasure, sport, heart-healthy exercise, and even commuting. Fat tire e-bikes are gaining a broad segment of electric bike fans, partly because they can easily go places that a thin tire cannot go.
As you would probably suspect, off-road biking contributes to the appeal of fat tire e-bikes. Since March of last year, electric mountain bike sales have grown by 60%. Total sales in the US last year reached $1,464,000,000. It's truly amazing that 47,000 bikes are being sold every day. Electric fat tire bikes are claiming their share of the bike industry growth because people are discovering the joy of riding off-road, far from exhaust fumes and heavy traffic.
Fat tire e-bike owners love the option to ride on such a wide variety of terrains. This is where fat tire e-bikes really shine, whether on city streets or sandy beaches, and it's no surprise that they are a huge segment of the current record-setting market. The Magicycle Cruiser Pro is the perfect choice for anyone looking to get in on the exciting variety of riding that is offered by a great fat tire e-bike. Let's take a quick look to see how it checks all the boxes for e-bike shoppers.
✅  Power
Everyone wants a powerful e-bike, and with good reason. After all, who wants to get stuck halfway up a steep hill because that good-looking fat tire e-bike was underpowered? The Magicycle Cruiser Pro models are equipped with the newly-improved hub motor, an upgraded edition perfected b the Magicycle engineers. There is no shortage of hill-climbing quick-takeoff power on the Cruiser Pro.
The upgraded motor gives Magicycle riders a truly amazing 96 Newton Meters of torque. That torque is exceptional, about the same as the torque of an 800cc motorcycle. Newton meters (Nm) is a standard measurement of torque. This scientific technique for measurement was invented by Isaac Newton, and is still very much the standard for measuring torque today. And MAGiCYCLE provides the highest torque of any fat tire e-bike in its price range. Cruiser Pro owners can look forward to faster starts in heavy traffic and improved hill-climbing capability.  
There's also another important motor benefit for owners of the Magicycle Cruiser Pro. Reliability and longevity are top concerns for many e-bike riders, and the Cruiser Pro motor provides extended motor life. The life-extending redesign of this motor includes exceptional resistance to heat. Heat, of course, is definitely the enemy of most electronics. MAGiCYCLE fans are delighted to have this exceptionally heat-resistant 1100-watt (peak) motor.
✅ Range
The range is a crucial factor for both commuters and recreational riders. The Magicycle Design Team could easily have settled for the same battery used on the original Magicycle Cruiser. It's an excellent battery, but the Design Team wanted something even better. The Cruiser Pro motor is energized by a significantly upgraded battery. It's a true powerhouse generating 52 volts and 20 amp hours. That's a sweet 33% boost in amp hours compared to the original Cruiser and makes the Cruiser Pro an industry leader in range.
Riders can expect a range of up to 70 miles with a fully charged battery. Range, of course, will vary from rider to rider, and is affected by wind speed, terrain, rider weight, tire pressure, pedaling capability, and the weight of gear and accessories.
✅ Comfort
Reliable and powerful fat tire e-bikes are not inexpensive. An e-bike purchase represents a significant investment in health, recreation, and economical transportation. Most riders will want to ride frequently, and that demands comfort. A bike that is uncomfortable to ride will spend a lot of time in storage.
At the very center of rider comfort is the bike frame. Many e-bike brands base the frame sizing on seat tube length. That's unfortunate because seat tube length is not a key criterion. Far more important are body-hand distance adjustment and seat low-arc sag design so that riders have enough stand-over distance for their leg inseam length. 
The Magicycle designers take these key ergonomics as the primary criteria as they work on the design of an e-bike, especially a long-range fat tire e-bike cruiser like the Magicycle Cruiser Pro. They know riders will take longer rides, and this makes comfort even more important. The frame geometry and quality materials make the Magicycle comfort frame triangle the foundation of "the most comfortable ride ever."
The Magicycle Design Team has designed this frame in a way that moves the pedals forward by 5cm. That may not seem like much difference, but it allows riders to stretch their legs more naturally. This helps riders with a height of 5'5'' to 6'5'' to adjust to the most comfortable riding posture. Cruiser Pro owners pedal comfortably and exert smooth force, making long-distance riding easy and effortless. This helps maximize the comfort, power, and efficiency of every pedal stroke, even for shorter riders.
It may seem counter-intuitive, but aluminum is a more rigid metal than steel, and so the Magicycle frame uses a high-strength aluminum allow. It flexes less under heavy pedal pressure than does a steel frame. The result is that more energy from the effort of pedaling goes directly to turning the wheel, and almost zero energy is wasted in flexing the frame. All this comfort is a result of using the most advanced aluminum frame technology. With the resulting lightweight and strong durability, Magicycle again scores high in rider comfort and safety.
✅  Price
Everybody appreciates a great deal on an e-bike purchase, and prices vary widely. Magicycle Inc. enjoys a well-deserved reputation for consumer-friendly pricing. In fact, if you compare the Cruiser Pro to other fat tire e-bike cruisers in the same price range, you discover that no other brand matches the power, range, comfort, and quality. When you take a look at the reviews posted by Magicycle owners, you begin to understand why the low pricing is so remarkable.
✅ Quality
Quality is perhaps the most important factor in selecting a fat tire e-bike, regardless of whether you plan to ride it recreationally or as a commuter. Quality plays a huge role in both safety and reliability and yet too many shoppers focus on price rather than quality.
Factory ownership is an often-overlooked key to the level of quality that will give you many years of riding satisfaction. The consistent performance and reliability of Magicycle e-bikes are the result of factory ownership. How can a brand maintain excellent quality control if it does not own the factory that produces its e-bikes? The answer is simple -- it cannot.
Magicycle Inc. is proud to be one of very few e-bike brands that manufactures e-bikes in its own factory, and has been building e-bikes for more than 16 years. That's a lot of experience! The 107,000 sq. ft. Magicycle factory employs 150 workers and features state-of-the-art technology with an output of 300,000 units annually. More information is available at our store.
The Magicycle brand has always focused on providing a high-quality product at a very consumer-friendly price point. Many riders have noted that no other company can match the quality and power of a Magicycle in the same price range. The tradition of quality control and economical pricing is a very important combination. 
When a company has award-winning fat tire e-bike designs like the Magicycle Design Team and the company also owns the factory that builds the e-bikes, complete quality control is available. Magicycle Inc. excels in quality control all the way from original design to manufacturing to shipping. That's exactly what consumers want for their e-bike brand. As you go through the process of selecting an electric cruiser bike, always ask this question: Does the brand own an e-bike factory?
Magicycle Cruiser Pro, the All Terrain Long-Range Fat Tire Best Choice
The Cruiser Pro e-bike checks all five boxes...Power, Range, Comfort, Price, and Quality. Once you realize this, all that remains is to choose a style and color. The Cruiser Pro is available in traditional step-over and convenient mid-step models, and in three gorgeous colors...Pearl White, Army Green, and Space Gray.
Without ever leaving the comfort of your home, you can select your Magicycle as you browse the informative Magicycle website. Best of all...your shiny new Magicycle Cruiser Pro will arrive at your doorstep already 90% assembled and in only a week or less from the day you place your order.
Magicycle Deer Ebike SUV is now available at only $2,499. Limited Offer, come check out and grab one.