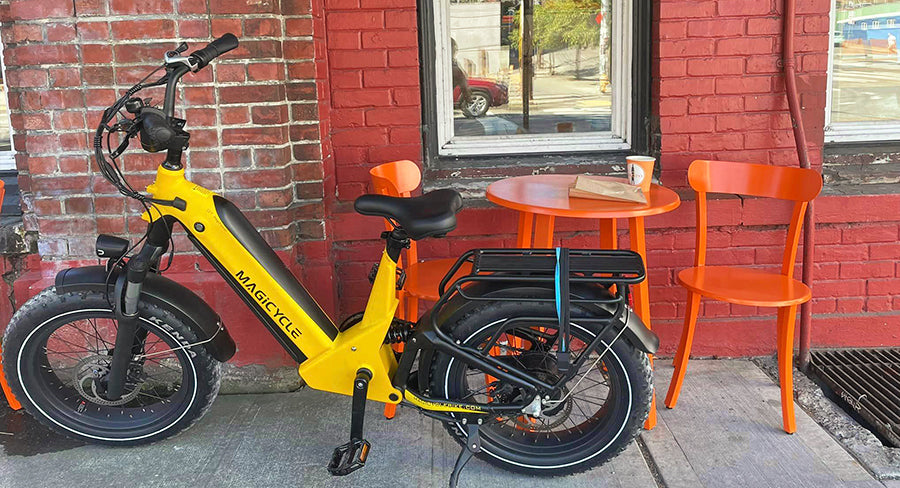 August 02,2023
Do I Really Need A Full Suspension Fat Tire Ebike?
If you are considering purchasing an electric bike for off-road adventures, you may be wondering whether you need a full suspension ebike. While it ultimately depends on your personal preferences and the type of terrain you plan on riding, there are several benefits to owning a full suspension ebike.
In this guide, we'll explore those benefits and help you decide if this type of electric bike for adults is the right choice for you. And if you do decide to go for it, we recommend checking out Magicycle's selection, as they offer high-quality full suspension electric bikes that can handle any terrain.
What is Full Suspension Fat Tire Ebike?
Are you wondering whether you need a full suspension electric bike for your off-road adventures? To begin with, a full suspension ebike is an electric mountain bike that boasts a front and rear suspension system that helps dampen the impact of bumps and uneven terrains.
With their wider tires, these bikes can handle a wide range of terrains, including snow, sand, and mud, providing more stability and grip to the rider. Whether you are a beginner or an experienced rider, a full suspension fat tire bike is a great option to consider for a smoother and more enjoyable ride.
Why Get a Full Suspension Fat Tire Ebike?
There are many pros to owning a full suspension ebike. Here are just a few:
Relaxing and Smooth Ride
The suspension system on a full suspension fat tire ebike plays a crucial role in providing a comfortable ride by minimizing the impact of bumps and vibrations on the rider's body. This feature is particularly important for those who frequently ride on rough terrains such as mountain trails, where the uneven surface can cause discomfort and fatigue.
With a full suspension system, the bike is better equipped to absorb the shocks, allowing the rider to maintain better control and balance throughout the ride. As a result, riders can enjoy a more enjoyable and less strenuous ride on their full suspension fat tire ebike.
Enhanced Grip
Riding an electric mountain bike on rough terrain requires good traction, and that's where the fat tires come in. The wide and knobby tires are designed to provide excellent grip in various conditions.
The larger contact patch between the tire and the ground allows for more surface area to grab the terrain, giving you greater stability and control while riding. With fat tires, you can confidently tackle challenging and technical trails without worrying about losing traction or slipping.
Adaptable
Full suspension fat tire ebikes are highly versatile, providing riders with the flexibility to use them for a plethora of activities, including daily commuting and off-road trail riding.
Their dual suspension system makes them capable of tackling challenging terrain, while their fat tires provide excellent stability and traction, regardless of the riding surface. Whether you're seeking adventure in the great outdoors or simply cruising around town, a full suspension fat tire e-bike is a reliable and adaptable option.
More Stable
The wider tires and suspension system of a full suspension fat tire ebike provide better stability when riding over rough terrain. This is because the suspension helps absorb the impact of bumps, and the wider tires offer greater surface area contact with the ground, resulting in a more stable ride.
This stability can also be helpful when making turns or navigating through challenging terrain. Whether you're a beginner or an experienced rider, a full suspension fat tire ebike can provide the stability needed to make your ride safer and more enjoyable.
More Fun
Riding a full suspension fat tire ebike is not only practical, but it's also a lot of fun! The wider tires provide excellent traction, allowing you to tackle challenging terrain with ease. The suspension system absorbs bumps and vibrations, creating a smooth and comfortable ride.
The combination of wider tires and suspension makes you feel more in control of your ride, giving you the confidence to push your limits. With a full suspension ebike, you can experience the thrill of off-road riding while feeling like you're gliding in the air.
How to Decide If You Need a Full Suspension Fat Tire Ebike?
There are many factors to consider when deciding if you need a full suspension fat tire ebike. Here are some of the most important factors:
Your budget: Full suspension ebikes can be expensive, so it's important to set a budget before you start shopping.
Your riding style: Do you plan on riding on paved roads, dirt trails, or off-road terrain? The type of terrain you'll be riding on will affect the type of ebike you need.
Your ebike range: How far do you plan on riding on a single charge? The range of an ebike will depend on the battery size and the terrain you're riding on.
Your ebike features: What features are important to you? Some ebikes for sale come with features like suspension, lights, and racks.
Once you've considered all of these factors, you'll be ready to start shopping for a full suspension ebike.
Full Suspension Fat Tire Ebike?
Looking for the perfect place to buy your ultimate fat tire ebike? Check out Magicycle! The brand has been working in the ebikes manufacturing field for years, winning the hearts of millions of customers and bringing the excellence every brand dire for. Their collection features many ebike options; however, if you are searching for full suspension ebikes, we suggest considering Magicycle Deer!
Magicycle Deer is the most recent launch from Magicycle and is the true embodiment of the brand's dedication to perfection, versatility, and premium quality manufacturing. It features a 750W 96Nm high power motor, 180mm hydraulic disk brakes, and a 52V 20Ah LG battery that ensures over 80 miles ride once fully charged.
This full suspension ebike comes in three color options; you can choose the one you like the most. Available color options include Dawn Yellow, Space Grey, and Neon Green. For more details, visit Magicycle's website.
Wrapping Up!
Full suspension ebikes are ideal for those who want adventurous rides when ensuring safety. With a dual suspension system, you can skip rider fatigue, riding comfortably. If you are searching for a top-notch full suspension ebike, we suggest checking out Magicycle Deer. Its impressive specifications, features, and look will surely tempt you to drool over this ebike.