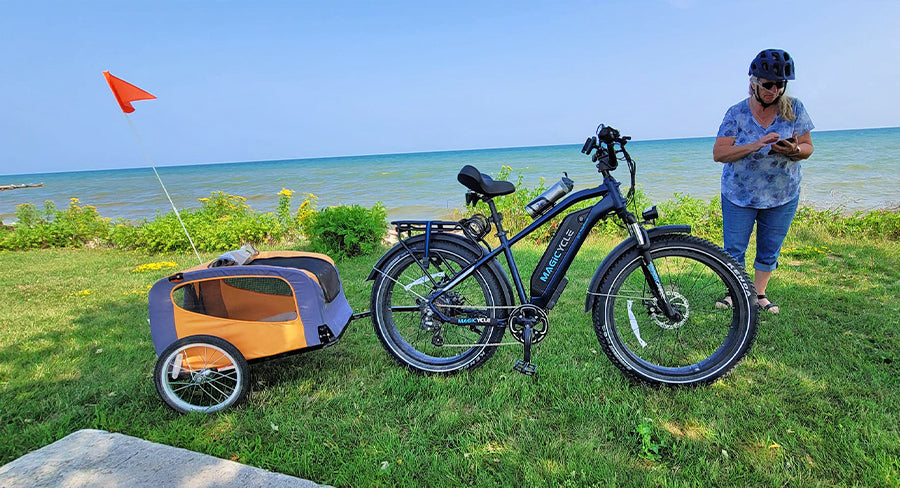 August 28,2023
Comprehensive Tips to Avoid Tiredness when Riding an Ebike
One of the biggest misconceptions about riding electric bikes is that you never get tired. These bikes require 24% lesser power than conventional bikes, as per a ResearchGate publication. However, it does not mean you will not use any power. If you are not careful enough, you will get stress and fatigue due to excessive workouts on your electric bikes.
Factors that can make you tired while riding an Ebike
Multiple factors can introduce tiredness while riding budget electric bikes. The worst part is that these are common, and we still ignore these factors due to ignorance. So, here is a list of things that can make you tired while riding your budget electric bikes:
Not focusing on your body's hydration requirements can introduce muscle fatigue
Poor nutrition leads to an energy drop
Improper budget electric bikes or not using your Ebikes correctly
Extended rides in touch weather conditions
Not charging your bike's battery before hitting the road
All these and many other factors can introduce fatigue in your body after riding an Ebike.
Comprehensive Tips to Avoid Tiredness when Riding an Ebike
Here are the most important tips that will help you avoid tiredness while riding your electric bikes for adults:
Choose the right one from electric bikes for adults
As you shop for your Ebike, you will come across many options. These will vary on factors like the battery configuration, structure, max limit, tire width, saddle type, suspension figures, etc. Among all these variations, you must select a bike that is perfect for your body and keeps a healthy posture while riding.
Such a bike will always provide you with the assistance needed while riding, and it will not be a tiring experience for you.
Customize electric assistance as per the riding conditions.
A mistake most new riders make is not using their Ebike to its full potential. These bikes can provide little assistance, moderate assistance, and full assistance. Since different parts of your route require different paddling power, you must customize that assistance accordingly. Remember that always going for complete electric assistance will ruin your exercise and riding assistance.
Meanwhile, keeping it at the lowest will put you through the most stress. So, intelligently set assistance for a convenient riding experience.
Focus on longevity rather than sprints.
When riding your Ebike, you must start slowly and moderately increasing your pace. No matter how you ride, you must not focus on pushing too hard for a long time. Sprinting for some time with good electrical assistance is a good idea. However, making it long will drain your energy and battery power.
The best practice is switching between different riding modes to get a workout experience along with convenient riding.
Mind the weather and stay hydrated.
You don't want to ride outside in harsh weather conditions. Even when it is an Ebike, it will not help you deal with hot and humid weather conditions. Additionally, you must wear appropriate clothing for adequate body temperature maintenance. Another important thing is maintaining your body's hydration.
Dehydration can reduce your endurance and cause muscle fatigue, so drinking plenty of water before, during, and after riding your Ebike is essential.
Always warm up before you start.
A key to preventing tiredness while riding an Ebike is to warm up before you start riding. You can start by stretching and slowly riding your bike for some time. During warmup, your body and muscles prepare for an intense workout.
You may increase the riding intensity once your body and muscles are warm enough. This is the point where you can increase speed and reduce electric assistance if you want a more intense workout.
Don't put your body through excessive stress.
Exercise is good for the body, but putting your body through excessive stress is not wise. You don't want to put excessive load on your muscles or joints just to achieve your goal in a shorter time. Always listen to your body's signals; if you feel strained, dizzy, or restless, you must lower the workout intensity. Otherwise, this light-seeming exercise can become counterproductive for you.
Taking regular breaks is a must.
Take breaks if you are out for a long ride. A break can mean a complete pause under a shade to let the body cool down, hydrate, and then continue. Similarly, it may mean moving the electric assistance to the max and stopping paddling while on your way home. Either way, you will be protecting your body from cramps and fatigue.
Final Words:
Most people think that getting electric bikes for adults will resolve the issue of tiredness. However, it only decreases the number of efforts to around 24%. It means you will still be putting in some effort and losing your energy. Following this guide's comprehensive tips, you can avoid tiredness while riding electric bikes.