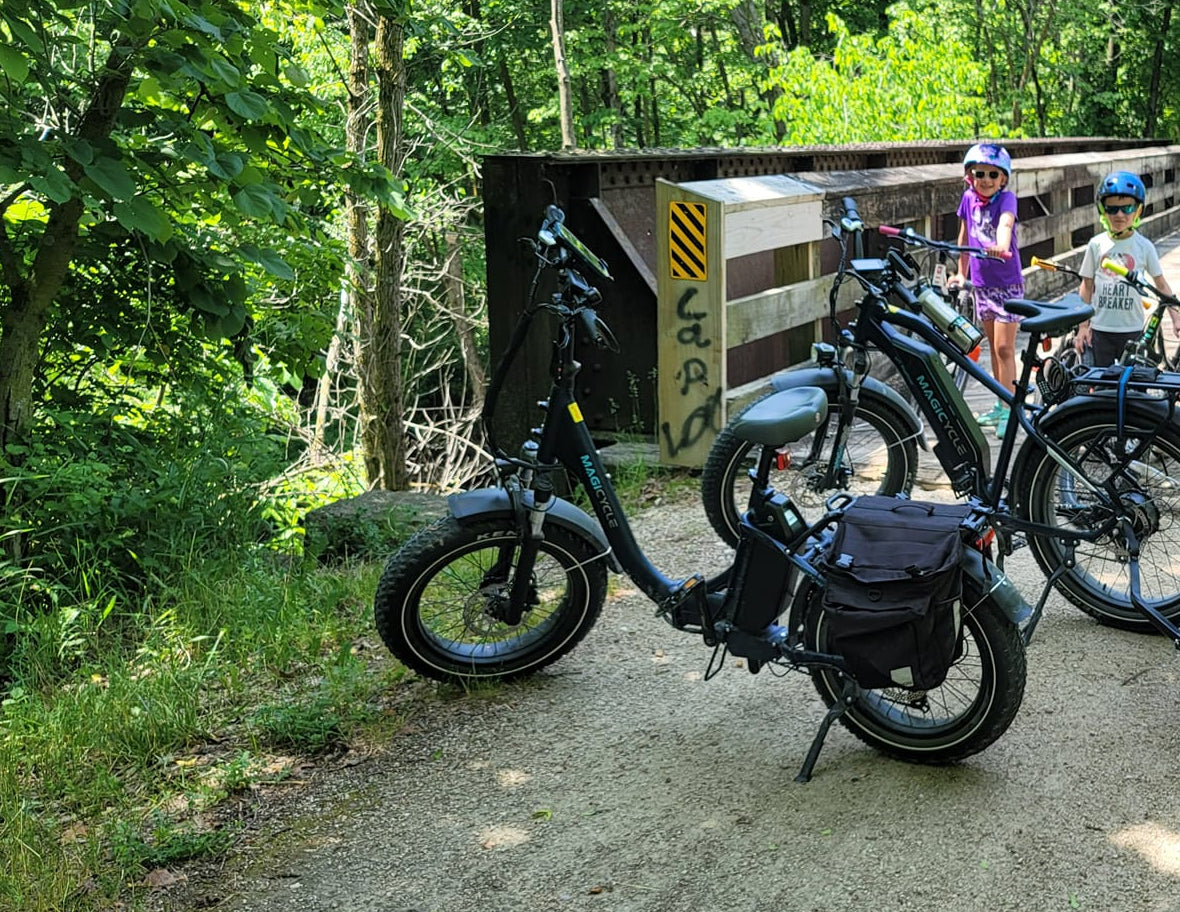 July 28,2023
Can Fat Tire Folding Electric Bikes Go Uphill?
Have you ever wondered whether a fat tire folding electric bike can handle steep hills and rough terrain? We're here to find out! Electric bikes have revolutionized the world of transportation, providing an eco-friendly and efficient alternative to traditional bikes. With the added convenience of a folding frame, these bikes are perfect for adventurers, commuters, and anyone in between.
Whether you're in the market for a foldable electric bike for adults or a rugged folding fat tire electric bike, there's never been a better time to explore the world of electric bikes. So, can fat tire folding electric bikes go uphill? Let's dive in and find out!
Can Fat Tire Electric Bikes Climb Steep Hills?
Are you looking for an efficient and convenient mode of transportation that can handle steep hills and rough terrain? Look no further than the world of electric bikes! With options like foldable electric bikes for adults and rugged folding fat tire electric bikes, there's no limit to where you can go. You might be wondering whether these bikes can really go uphill. The answer is a resounding yes! Thanks to their powerful motors and sturdy frames, electric bikes for sale today are more capable than ever.
With the added convenience of a folding frame, you can take your bike with you wherever you go. Whether you're commuting to work, running errands around town, or exploring the great outdoors, an electric bike for sale is a great choice. So why not join the electric bike revolution? Browse the selection of electric bikes for adults today and experience the power, speed, and convenience for yourself!
What Makes Fat Tire Bikes Highly Stable?
Folding fat tire bikes are a versatile and convenient option for riders who want to tackle challenging terrain without sacrificing portability. Here are some key factors that contribute to its stability:
· High Power Motor
The motor power is always the top priority to notice when purchasing an electric bike for any rider. This is because the bike's motor power significantly determines how effortlessly a bike would climb a steep hill.
A fat tire folding electric bike with high power would mean it has an efficient torque, ultimately adding to its climbing ability. Moreover, with a better torque system, your e-bike will have better acceleration, providing more stability and helping it climb steep hills easily.
· High Capacity Battery
Another reason the fat tire folding electric bike offers so much ease and stability when climbing up steep hills is the high-capacity battery. Any e-bike with an efficient working battery system would allow users to climb uphills without using manual labor. This means that the automatic system of the bike would be sufficient enough to help you go up without putting any extra effort on your end. Hence, the rider will not feel tired, and the bike will climb up more steadily, making your adventure worth it.
· Fat Tire Work as Exceptional Stabilizer
There is no denying that the fat tire provides bikes with an additional grip and works as an exceptional stabilizer on an e-bike. The fat tire folding e-bikes have fat tires installed in them. The broad rims and bigger tires would provide the bike a comprehensive contact with the ground while delivering less pressure. Both factors combined would give the bike a more stable grip on elevated terrain and excellent traction.
· Anti-Gravity Pull and Exceptional Brakes
Steep hills are uneven and elevated, which means that a bike would have difficulty staying upright in such conditions. However, with the fat tire folding electric bike, this is not something you should worry about. The fat tire's comprehensive coverage with the ground provides the cycle with an impeccable grip. The anti-gravity pulls generated due to this grip help the bike transition only upwards rather than in the opposite direction. Moreover, the efficient braking system would bring your bike to an immediate halt when the need arises, ensuring stability on your ride.
Things to Consider While Purchasing a Foldable electric bike for adults
Want to know about folding electric bike for sale? Here are some top things you should consider:
Durability and Build Quality
When choosing a foldable electric bike, consider the durability and build quality of the frame, components, and motor. Look for a sturdy frame made of high-quality materials and features that can withstand frequent use and rough terrain. Also, check the motor's power and efficiency, ensuring it can handle your daily commute or recreational rides.
Battery Life and Range
The battery life and range are crucial factors to consider while purchasing an e-bike. Look for a foldable electric bike with a battery that can provide enough power for your daily commute or recreational rides. Also, consider the range and how far the bike can travel on a single charge.
Folding Mechanism
Since you are considering a folding electric bike, it's essential to check the folding mechanism. Look for a foldable electric bike with a simple, easy-to-use folding mechanism that allows you to quickly fold and store the bike in small spaces.
Comfort and Fit
It's essential to choose a foldable electric bike that provides a comfortable and ergonomic riding position. Consider factors like the bike's handlebar, saddle, and pedal position, and choose a bike that fits your body size and riding style.
Weight and Portability
The weight and portability of a foldable electric bike can vary in how easy it is to carry and store. Consider the bike's weight and whether it's easy to carry when folded. Also, check the size of the folded bike and whether it fits in your car trunk or storage space.
Price and Value for Money
Lastly, consider the price and value for money of your chosen foldable electric bike. Look for a bike that provides good value for money, taking into account its features, quality, and performance. Consider your budget and choose a bike that offers the best value for your money.
Best Place to Purchase a Foldable Fat Tire Electric Bike for Uphill Adventures
Looking for the perfect folding fat tire electric bike for uphill adventures? Look no further than Magicycle! Their Jaguarundi 52V Folding STEP-THRU Fat Tire Ebike is a top-of-the-line option with its powerful motor, sturdy frame, and comfortable ride. Plus, with easy folding capabilities, it's easy to store and transport. Don't miss out on the chance to own one of the best folding fat tire electric bikes for sale on the market today. Also, you can check out Magicycle's website for more information.
Wrap Up!
Fat tire folding electric bikes are an excellent option for uphill adventures, thanks to their sturdy design and powerful motors. With the right bike, you can conquer any incline with ease and enjoy the thrill of the ride. If you're in the market for a reliable and high-quality folding fat tire electric bike, be sure to check out Magicycle's selection of ebikes for sale, including the Magicycle Jaguarundi 52V Folding STEP-THRU Fat Tire Ebike.