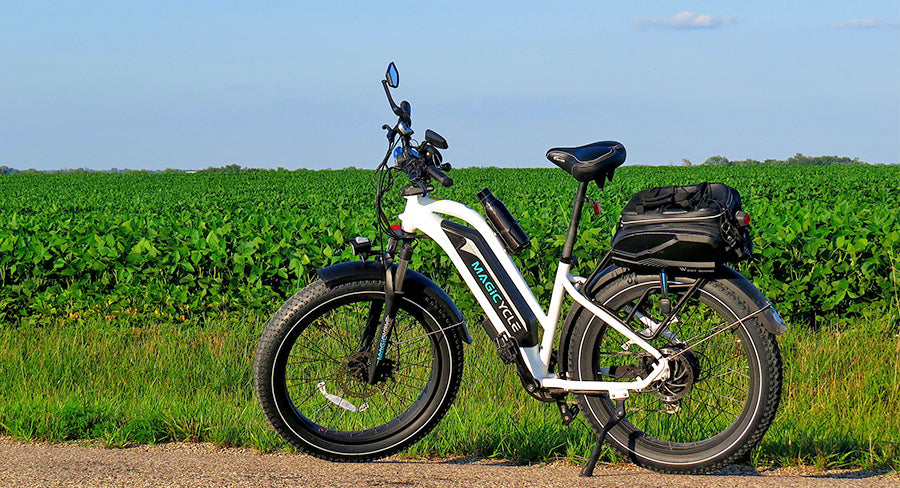 August 05,2023
Benefits Of Owning an Electric Bike with Fat Tires
With the evolving world, one concept has taken a massive rise. What is it? Well, people ensure to take measures which help towards an eco-friendly environment. This is one of the significant reasons why instead of regular automobiles and bikes, many people have started to search for a more economical, safe, and budget-friendly mode of transportation.
When discussing these three factors combined in one vehicle, electric bikes are the first thing that pops up in your mind, right? If you saw these electric bikes with fat tires and plan on purchasing one but are hesitant to do so, then we have you covered. Hop on below to learn why investing in a fat tire electric bike might be the best decision that you can make.
Why Investing in an Electric Bike with Fat Tires Might Be a Great Idea?
There are many electric bikes in the market, each with unique benefits. However, electric bikes with fat tires are becoming known recently. Clearly, why shouldn't they? Given that the bike offers so many benefits to users, it is no surprise it got the hype it deserved. Want to know why investing in this bike might be a great idea? Here are a few points to back it up for you:
Fit for all Terrains
The primary reason why investing in an electric bike might be an excellent idea for you is because of the versatility in the terrains it offers. The fat tire e-bike can roll off muddy paths and rough terrains, all while sliding through the smoothest of roads as well. Moreover, there is no denying that several rough terrains can be a nuisance to travel on, with bumps and potholes which leave chicks vibrating through your body. This surely can be uncomfortable.
However, with the fat tires installed in the electric bike, this is not something you should worry about. These tires are designed to absorb all shocks and vibrations, ultimately providing a smooth riding experience.
Low Maintainance
The fat tire electric bikes might be pricier if you compare them to the other e-bikes in the market. However, considering the long-term maintenance charges, these bikes are a significantly better investment. This is because electric bikes with fat tires have an overall frame that has a sturdy build. This firm and sturdy body of the structure makes it less likely to get damaged in whatever conditions you put the bike through.
This eventually saves you on the cost of getting it repaired. The tires, on the other hand, are impressive as well. The thick diameter and design of the tires make them less likely to get punctured or damaged despite bumping through potholes and uneven terrains.
It helps you Stay Fit while Having Fun
The fat tire electric bikes make an excellent exercise component. These bikes provide extra traction and stability, which improves the user's pedaling experience. Moreover, with the impeccable grip and high-power motor and battery, the cycle reduces any fatigue which the user may go through when riding uphill or along challenging terrains. So, let the wind flow through your hair, and have fun all while staying fit.
Adventurous and Comfortable
The fat-tire electric bikes are the answer to all your adventures while making you comfortable. The ability of these bikes to help you ride through all types of terrains enables you to take them along with you on any adventure you want. These bikes, on the other hand, have a comfortable pedaling and seating experience. With plushy seats, which would make sitting on the bike for long hours easy, and the high-power motor and battery, which would ensure that you do not have to put in much manual labor, the cycle would provide a comfortable and fun riding adventure.
Durable
Durability is one major factor many consider when investing their money in an e-bike. This is because when you put your money into something, you expect quality in return.
The electric bike with fat tires would check all these boxes for you. These bikes are comfortable and have low maintenance due to their sturdy frame and excellent tires. Hence, all these factors combined make the bike durable and a worthy purchase, something worth investing your money in.
Where Can You Find the Best Electric Bike with Fat Tires?
Now that you know all the benefits of owning an electric bike with fat tires, you will be convinced to buy one. However, given the majority of manufacturers and sellers in the market, choosing one particular place to invest can take time. Well, if this is bothering you, we got you covered. To purchase a fat tire electric bike, look no other than Magicycle.
This manufacturer has one of the best ranges for e-bikes with fat tires. The Magicycle Cruiser Pro Mid Step-Thru is one e-bike you should consider. This top-of-the-line model boasts a powerful 750W/1000W 96Nm high-power motor, 52V 20Ah LG battery, and 80+ miles per charge range.
The 180mm hydraulic disc brakes provide optimal stopping power, while the 7-level pedal assist and 12-magnet cadence sensor ensure a smooth and efficient ride. With a  max speed of 28mph with pedal assist, this electric mountain bike will surely deliver the ultimate riding experience. Don't settle for less - visit Magicycle's site and invest in the best electric mountain bike today.
Wrapping Up!
An electric bike with fat tires is an excellent investment for anyone seeking an exciting and efficient way to navigate challenging terrain. With superior grip and stability, powerful motors, and added convenience, these bikes provide ultimate comfort, performance, and efficiency. Invest in one today and elevate your cycling experience! Magicycle is the perfect destination for anyone seeking an electric bike with fat tires, as it offers a wide selection of top-quality models at affordable prices.